Turkish Health Ministry reported 19 more deaths from swine flu over a week in the country, making the death toll 415.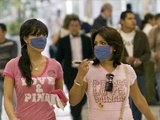 The ministry said in a statement on Monday that 27 of the people died of swine flu, since the beginning of pandemic, were pregnant women or women who had recently given birth.
Ministry officials reiterated that the best way to get protected from the disease was vaccination, adding that a mass vaccination program was under way in Turkey.
"Pregnant women and women who recently gave birth to a child are of top priority in the vaccination program," officials said.
The ministry also called on at-risk groups to get vaccinated and advised parents to have their children vaccinated.
/Anadolu Agency/