Armenia has confirmed 2 A/H1N1 death cases, one of them being a pregnant woman in her 6th month, the other one a 28-year youth.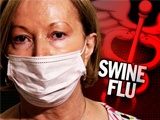 According to the chief infectiologist Ara Asoyan, the latter was a Yerevan resident, he died in Nork infection clinic, while the former, as the deputy director of the Medical Center in the city of Hrazdan Sasun Hovhannisyan said, was a Hrazdan resident and died after she was taken to Erebouni medical center.
Healthcare Minister's Assistant Shushan Hunanyan said swine flu total number in Armenia has hit 80.
Though, she stated the number of respiratory diseases have decreased in the republic.
/Panorama.am/