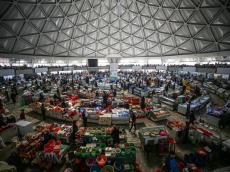 Inflation in Uzbekistan in September 2023 was 1.24%, Azernews reports, citing Kun.uz News Agency.
This is the highest figure for this month in the last three years (2021 – 1.09%, 2022 – 1.03%), and also the largest increase since the beginning of 2023.
Last month, food prices rose by 1.8%, non-food products by 1%, and services by 0.6%.
Since the beginning of the year (January-September), inflation has increased to 5.13%, annual inflation (compared to September last year) has accelerated to 9.19% (8.96%). During the year, food products rose in price by 11%, non-food products – by 7.6%, services – by 8.2%.
Also, over the past month, housing rents have increased in a number of regions (the national average by 2.4%).
In September, prices for public catering services in nine regions increased by an average of 0.1% to 2.5% (from 0.3% to 5.3% in August).
In a number of regions, the "pilaf index" has also changed. The cost of one serving of pilaf in the Bukhara region increased by 11.9% – to 28.2 thousand soums, in the Samarkand region – by 7.3% (27 thousand soums). In Navoi and Kashkadarya regions, pilaf also became more expensive (2% and 1.6%).