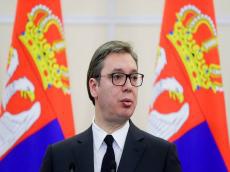 Serbia will call an emergency meeting of the country's Security Council over the escalation of the situation in northern Kosovo after the authorities of the self-proclaimed republic of Kosovo tries to take control of the buildings of local administrations, Serbian President Aleksandar Vucic said on Friday, Azernews reports, citing TASS.
"They waited for the day when many men from northern Kosovo and Metohija go to Belgrade and attacked municipal buildings in Zvecan, Zubin Potok, and Leposavic. The 'quint' (the UK, Germany, Italy, the US, and France - TASS) representatives now condemn this but they allowed the Albanians to do that. We will hold a meeting of the National Security Council to discuss what will happen in Kosovo and Metohija," he said at a nationwide pro-government rally.
The situation in four municipalities in northern Kosovo and Metohija escalated on Friday after Kosovo law enforcement officers tried to seize the buildings of local administrations, despite the resistance of local residents. The Kosovo police reportedly used tear gas and flash bang grenades. According to the local mass media, a police car was set on fire in the Zvecan municipality and armored vehicles were reportedly deployed to the site. In response to the actions of the Kosovo authorities, Belgrade put its army on high alert and deployed troops to the administrative border with Kosovo.
Pristina insists that the new mayors of the four municipalities, who were elected amid the election boycotting by the Serb population, take their offices.
Elections to local self-governments in four municipalities - Zvecan, Zubin Potok, Leposavic and North Mitrovica - in northern Kosovo and Metohija were held on April 23. The elections were boycotted by the Serb List party because of Pristina's non-fulfilment of its commitments. As a result, the voter turnout was a mere 3.47%, with 1,566 Albanians and only 13 out of 45,095 eligible Serbs taking part.