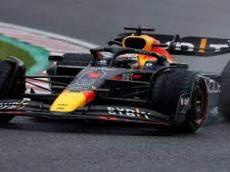 The 2023 Monaco Grand Prix will be run on Sunday after the Formula One skipped the season's previous Emilia Romagna GP as floods inundated northern Italy.
The 78-lap race will take place at Monte Carlo's 3.337-kilometer (2.07-mile) Circuit de Monaco, a street circuit near the city-state's port.
The first Grand Prix at the Circuit de Monaco was held in 1950.
After practice rounds and a qualifying phase, Round 7 in Monaco will start at 1300 GMT on Sunday.
The Red Bull Racing team is dominating this season's championship, having won all five races so far, Azernews reports, citing Anadolu Agency.
Dutch driver Max Verstappen, the 2021 and 2022 F1 champion, was victorious in Bahrain, Australia, and Miami.
His Mexican teammate, Sergio Perez, won the Saudi Arabia and Azerbaijan Grands Prix.
The Emilia Romagna Grand Prix, round 6 of the 2023 F1 season, was due to be held on May 21 but was canceled last week over serious flooding that hit northern Italy.
Verstappen has 119 points and leads the 2023 driver standings.
Perez is in the second spot with 105 points.
Third-place Fernando Alonso (Aston Martin) has 75 points.
Mercedes' British racer Lewis Hamilton, a seven-time F1 champion, is fourth with 56 points, while Ferrari's Carlos Sainz of Spain has 44 points at fifth.
The 2023 Constructor Standings is led by Red Bull, bagging 224 points.
Aston Martin are in the second position with 102 points.
In third place, Mercedes have 96 points, followed by Ferrari with 78. McLaren are fifth with 14 points.