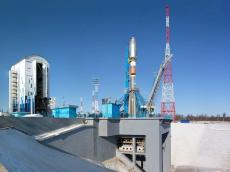 Russia on Saturday launched its Condor-FKA satellite, which can take pictures of the earth's surface around the clock in any weather, including in conditions of heavy clouds, Azernews reports, citing Anadolu Agency.
The satellite was launched from Russia's Vostochny Cosmodrome, a Russian spaceport in Russia's far-eastern Amur Oblast, using Soyuz 2.1a, a rocket-powered vehicle, the state space agency Roscosmos said in a statement.
"The separation of the spacecraft from the upper stage was carried out successfully. The first radar satellite has been launched into a given orbit," it said.
Condor-FKA was developed by the military-industrial corporation Scientific and Production Association of Mechanical Engineering.
The mass of the satellite is 1,050 kg.