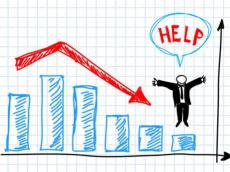 /AzerNews/
By Mushvig Mehdiyev
Armenia's wine export is declining fueled by drastic devaluation of the Russian ruble, which is accepted as a serious threat to the whole economy of the country.
Co-owner of the Armenian Wine company Vaahn Mkrtchyan said the ruble's depreciation caused serious complications to wine export.
"An unpleasant causal chain started in the market simultaneously with the ruble's fall. Drop in purchasing power in Russia decreased orders from Armenia," Mkrtchyan said, noting possible drop in orders for grape from the Armenian farmers.
Wine is not the alcoholic product targeted by fall in ruble, as a 4.1 percent drop has earlier been reported in the brandy export. Officials forecasted nearly 30 percent loss in brandy export from Armenia to Russia in 2014. Ruble's depreciation make Armenian winemakers lose about $86,000 a day based on the large share of brandy and wine exports to Russia.
Mkrtchyan noted that the Armenian winemakers managed to deliver Russia only 50 percent of the pre-scheduled amount of wine.
Wine companies in Russia observe a fall in the markets all over the country, particularly in the low and middle price segment, which is characterized by 400-500 rubles ($7-10) for a bottle.
The average income of the Armenian alcohol producers in Russian markets dropped by 15 percent, as the ruble is under an overwhelming devaluation since September.
Meanwhile. the Armenian economy is expected to be shaken by a new negative market wave given a sharp decrease of copper price in London stock exchange.
The price for a ton of the copper dropped to $6,313, the lowest price registered for copper so far, which is a bad news for Armenian economy.
Nonferrous metals, particularly copper ores hold a considerable share in Armenia's overall export. Decline in the copper's price resulted in the fall of the remittances to Armenia and decrease in the amount of taxes paid to the state budget. Fall in the copper's price is accepted as the second major blow on the Armenian economy following devaluation of the Russian ruble.
Experts say Armenia should not expect a flow of "copper dollars" into its budget given exclusion of any significant hike in the price of copper in near future.
Landlocked Armenia now resembles a man, who was abandoned in an isolated island in the middle an immense ocean of problems. Instead of rolling its sleeves up and looking for the ways of escape, it is just sitting and waiting for a rescue ship to emerge on the horizon.