Armenian are destroying Garaji cemetery in Azerbaijan's occupied Agdam region.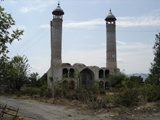 200-year old cemetery is located 6-7 kilometers outside the center of the Agdam region.
Various media outlets have repeatedly reported that the Armenians destroy Azerbaijani cemeteries in the occupied territories, take away tombstones and iron bars from the cemeteries to use them as building materials.
Apparently, the cemetery in Agdam suffered the same fate.
As is seen from the photographs, cemetery is purposefully destroyed. It has suffered extensive damage. The graves of Azerbaijanis are desecrated.
The cemetery can be completely destroyed and disappear in future.
After forcing inhabitants of Azerbaijan's Agdam region to flee, the Armenian occupation forces are now trying to destroy the past of these people.
Click to enlarge:
Day.Az