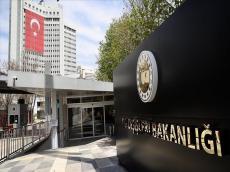 "On the occasion of the 14th anniversary of the signing of the Nakhchivan Agreement, which laid the foundations of the Organisation of Turkic States, we warmly congratulate on the Day of Cooperation of Turkic States," the Turkish Ministry of Foreign Affairs said in a statement, Azernews reported.
Started in 1992 as "Summits of Heads of State of Turkic-speaking countries", this process has now turned into a full-fledged international organization thanks to the strong will and joint efforts of the participating countries.
The Organisation of Turkic States aims to rapidly expand and deepen cooperation among member States, harmonize national capacities, and promote peace and stability as a responsible and responsive regional player on the world stage.
Turkiye will continue its tireless efforts to further strengthen Turkic cooperation and make the Turkic world "stronger together," the statement said.