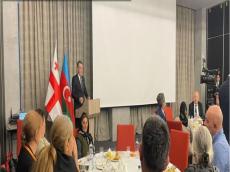 Azerbaijan pays the tuition fees of about 1,800 students in Georgia every year, Azernews reports, citing Azerbaijan's Ambassador to Georgia Faig Guliyev telling at a meeting with the families of martyrs.
The diplomat recalled that Azerbaijan allocated $70m for the implementation of social projects in Georgia:
"All organizations, as well as the Heydar Aliyev Foundation, implement social projects. All the work is done to improve the social welfare of our compatriots living in Georgia. We always support the families of martyrs. Fountains are built to perpetuate the name of our martyrs. The book "Immortals" has been published, and documentary films are being shot. These works will be continued."
The relationship between Azerbaijan and Georgia has been strong for centuries, with the two countries sharing a common history and culture. Azerbaijan has long been a major trading partner of Georgia, and the two countries have a long-standing agreement on education and cultural exchange.
The tuition fees paid by Azerbaijan are part of a larger effort to promote educational opportunities for students of Azerbaijani origin in Georgia. In addition to tuition assistance, Azerbaijan has also provided funding for the construction of new schools and universities, as well as for the renovation of existing educational institutions.