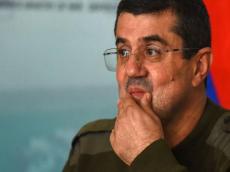 Separatist leader Arayik Harutyunyan announced his intention to resign from his so-called position in Azerbaijan's Garabagh, Azernews reports, citing a post on his Facebook account.
He noted that he had made this decision two days earlier. Also, he added that Samvel Shahramanyan will replace him as a leader of separatists.
To recall, taking advantage of internal turmoil, Armenia invaded Azerbaijan's Garabagh and adjacent seven districts, and expelled all non-Armenian residents of the region at the beginning of the 1990s when the USSR collapsed. Later Armenians guise their illegal action as a self-determination of nations. Ostensibly, the Armenian minority in Garabagh "declared" their self-determination. Azerbaijan tried to solve the issue through negotiations over 30 years. However, Armenian aggression in 2020 forced Azerbaijan to launch the counter-offensive operation that resulted in liberating most of the invaded territories.
It should be noted that during the 44-day War, Arayik Harutyunyan was accused of four terrorist acts against civilians in Ganja in October 2020. The terror was committed from the territory of Armenia. As a result, 26 civilians were killed and 175 were wounded.
On 4 October, Arayik Harutyunyan claimed responsibility for the terrorist attack on his social media account. A criminal case was opened under various articles of the Criminal Code, and Arayik Harutyunyan is wanted.