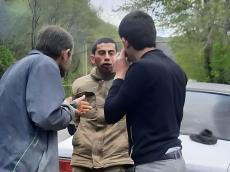 Today, a "trial" will be held over the Azerbaijani serviceman Husein Akhundov, who got lost on April 10 of this year and crossed into the territory of Armenia, Azernews reports.
The "trial" will take place in a court of general jurisdiction in the territory of Western Zangazur. Huseyn Akhundov's "criminal case" will be considered by Judge Napoleon Oganyan.
It should be noted that false accusations were made against the soldier of the Azerbaijani army Hussein Akhundov. He is accused of "killing" a 57-year-old security guard in the Syunik region.
Recall that the servicemen of the Azerbaijani army Agshin Babirov and Huse?n Akhundov disappeared due to limited visibility in adverse weather conditions in the Shahbuz region of the Nakhchivan Autonomous Republic on the border with Armenia. On April 13, the RA Ministry of Defense announced their detention.
Later, in the Armenian segment of the Web and in a number of media, footage was circulated showing how Armenians beat and brutally torture Husein Akhundov, who was taken hostage.
A criminal case has been fabricated against our soldiers on the basis of false accusations.