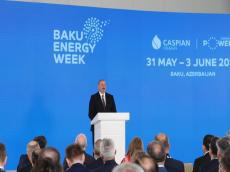 Azerbaijan aims to become an exporter of "green energy" in medium term, Azerbaijani President Ilham Aliyev said while addressing the participants of Baku Energy Week, Azernews reports.
"By utilizing its ample natural resources, our country has made important contributions to the global agenda of increasing alternative and renewable energy production, de-carbonization and diversification of energy sources. In the mid-term perspective, Azerbaijan aims to become an exporter of electricity obtained from alternative sources and "green energy", hydrogen," the President said.
President Ilham Aliyev also touched on prospects of realization projects covering the launch of green energy zone in the liberated territories of Azerbaijan.
"In particular, the implementation of large-scale projects in liberated territories, including the creation of a "green energy" zone in Karabakh and Eastern Zangazur, will turn the country into an alternative energy producer and exporter.
Taking into account the growing strategic importance of the Southern Gas Corridor project in the energy transition, the expansion of the TANAP and TAP projects has already become a topical issue for Azerbaijan. The expansion of the Southern Gas Corridor before 2027 and other prospects related to the transportation of energy resources will serve to further enhance the strategic role of our country in diversified energy supply and energy security of our partners," the head of state emphasized.