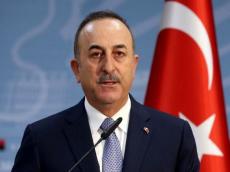 Mevlut Cavusoglu, Minister of Foreign Affairs of the Republic of Turkiye, said in a press conference with Argentina's Foreign Minister Santiago Cafiero that Turkiye and Azerbaijan are sincere in their efforts to develop the South Caucasus in peace, Azernews reports.
"Hopefully, the South Caucasus will become a region of development and peace," he said.
Turkish Presidential Spokesperson Ibrahim Kalin previously stated that Turkiye sees progress in normalizing relations with Armenia. He believes that the Armenian diaspora should support the process of establishing peace and prosperity in the South Caucasus. He stated that Turkiye will continue to work with Azerbaijan to make Armenia a peace stakeholder.
Furthermore, Turkish officials have repeatedly emphasized the necessity for Armenia to shake the hand of peace held out by Azerbaijan and Turkiye.