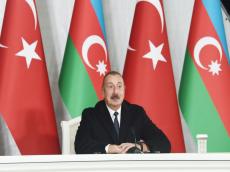 By Azernews
By Ayya Lmahamad
President Ilham Aliyev has said that Azerbaijan and Turkey are writing history together and the two countries' joint steps will remain in history forever, Azertag has reported.
He made the remarks during a joint press conference held with his Turkish President Recep Tayyip Erdogan in liberated Zangilan region's Aghali village on October 26.
"The holding of official ceremonies both in Shusha and in Zangilan today, the performance of the national anthems of Turkey and Azerbaijan, our joint steps will forever remain in history. We are writing this history together. We were together throughout the war and we are together today," the president said.
He recalled the visit of the Turkish president to Shusha four months ago, and the signing of the Shusha Declaration, which raised bilateral relations to the level of an alliance.
"Four months ago, you and I visited Shusha together, and today we are visiting Fuzuli and Zangilan. The Shusha Declaration signed in the city of Shusha is a historic document. This declaration officially raised Azerbaijani-Turkish relations to the level of alliance," Aliyev said.
Fuzuli International Airport, Zangazur corridor
Speaking about the Fuzuli International Airport, the president emphasized that their joint participation in its opening once again demonstrated the countries' unity and strength.
"It testifies to the fact that Turkey and Azerbaijan as two fraternal countries are always next to each other," he said.
Aliyev noted that the airport's construction by Azerbaijani and Turkish companies lasted only eight months and he described it as a joint success of the two countries.
The president added that the foundation was laid for the first private investment projects in Zangilan region.
"This is also a joint Turkish-Azerbaijani investment project. This once again shows that together we are moving forward shoulder to shoulder in all matters," he said.
Aliyev stated that the foundation was laid also for a large highway, which is a part of the Zangazur corridor. He underlined that the Zangazur corridor, passing from Zangilan, "will connect the entire Turkic world".
"Both Azerbaijan and Turkey are taking tangible steps to implement the Zangazur corridor. I am confident that these steps will bear fruit in the near future," Aliyev stated.
Azerbaijani-Turkish cooperation
Aliyev stressed that from the very beginning of the Second Karabakh War, Turkey stood by Azerbaijan. he said that "this provided us with great political and moral support, and gave us additional strength".
"The Azerbaijani people today rightfully express their gratitude to you... You did a lot for our Victory, and today, already in the period of creation, the period of restoration, you are with us again," he said
Aliyev stressed that Turkish-Azerbaijani cooperation and brotherhood have become an important factor in regional affairs and even on a global scale. He added that thanks to Erdogan's leadership, Turkey has already become a great power on a global scale.
"The factor of Recep Tayyip Erdogan is one of the most important factors for the entire Turkic world," he underlined.
The head of state noted that Azerbaijan will hand over to Turkey its chairmanship of the Turkic Council next month and expressed confidence that Turkey will successfully preside over the council.
The president also thanked Turkish companies operating on Azerbaijan's liberated lands.
"Thanks to their tireless efforts, roads and railways are being built in this region today, tunnels are being built, and infrastructure projects are being implemented. This is another embodiment of our unity and brotherhood," he added.
Sustainable peace, regional development
In his statement, the Turkish president stressed that the conditions created after Azerbaijan's victory in the Second Karabakh War are more favorable than ever to ensure sustainable peace and progress towards the desired normalization. He added that both countries advocate sustainable peace and comprehensive normalization in the region.
"The roads and railways that will pass through this geographic space will open up economic and trade opportunities not only for Azerbaijan and Turkey but also for all countries in the region. The day will come when we will be able to travel from Zangazur to Istanbul, Igdir and Kars. The possibilities for turning the region into a transit and logistical center will expand," he said.
Ergodan added that all of Azerbaijan's neighbors, including Iran, Georgia, and Armenia, will be able to take advantage of this development.
Relations with Armenia
Speaking about relations with Armenia, Erdogan stressed that it should demonstrate sincere resolve in these issues to solve problems with Azerbaijan.
"If it shows goodwill towards Azerbaijan, then there will be no obstacles to the normalization of relations between Turkey and Armenia... I would like to stress again that Turkey will also constructively respond to any positive step aimed at establishing a lasting peace," Erdogan said.
Restoration, bilateral ties
Erdogan stressed that the roads being constructed will form the backbone of multilateral transport communications in the region.
"The restoration work done in such a short time in Fuzuli is encouraging both for Azerbaijan and for our region and gives rise to a sense of pride. Azerbaijan continues its work to develop this region, which will become an exemplary model for the whole world," he said.
He added that during the meeting held with President Aliyev, they discussed bilateral relations and regional processes.
"We had the opportunity to assess the current state of affairs and plans to the future related to the energy, transport, and development of Karabakh by expanding cooperation in the economic sphere and trade. Most importantly, we discussed how we can develop our ties further," he noted.