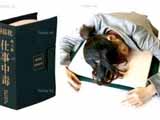 George Costanza once tried to take a nap at work by curling up into a ball underneath his office desk. Unfortunately, his plan backfired with a bang. Too bad he didn't have a workaholic pillow readily available to assist him in his quest for slumber.
The workaholic pillow is a pillow disguised as a gigantic book laced with professional-looking Chinese symbols. It's apparently meant to resemble a law-book, although it looks more like the Book of Confucius.
It was recently released through Rinkya Stores of Japan, but is accessible to any international buyer with Internet access to GeekStuff4U, which likely means that the Chinese won't be using it anytime soon.
At any rate, the basis behind this ingenious contraption is to fool your employer into thinking that you are hunched over and slaving over work—when you are in fact fast asleep. For, you see, upon opening the book, you come face to face with a doublewide foam pillow designed to perfectly fit your head, no matter how small or large it may be.
Of course if your boss is dim-witted enough to actually believe you're reading when you're clearly asleep, then you have nothing to worry about in the first place!
However, the key to using the workaholic pillow is to not actually fall asleep, but just rest instead. This will allow you to promptly flip the pillow back into a book whenever your supervisor approaches.
/Weird Asia News/
Click to enlarge: