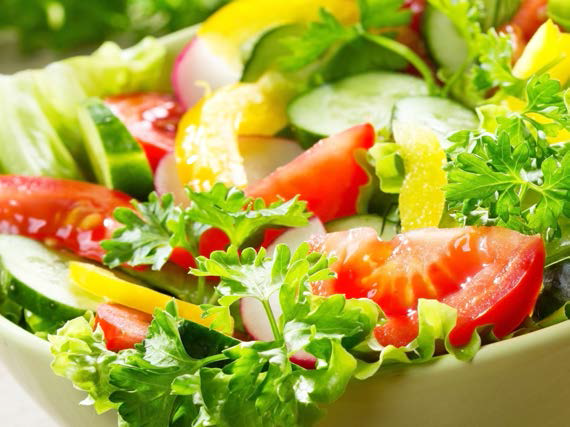 By Azernews
By Laman Ismayilova
With the hot summer weather arriving quickly, salads can be the basis for a light and refreshing meal.
Nutrient-rich plant food is favorable for the overall health of the body.
Starting your meals with a bowl of salad will help you attain weight loss. High in fiber and rich in other nutrients, salads are low in calories.
Azerbaijani cuisine has a rich variety of salads, from a simple combination of tomatoes and cucumbers to the more complex. There are thousands of ingredient combinations possible for making a salad. 
There are different types of salads used in conjunction with traditional dishes. "Shepherd's salad", "Pomegranate salad", Khazar", "Azerbaijan", etc. are the most spread varieties of national salads.
Other salads may include popular Azerbaijan ingredients such as pickled garlic, capsicum, eggplants, onion, pickled onion with sloe, pickled grapes and tomatoes.
These salad recipes are perfect for summer cookouts and easy family dinners.
Easy, fresh, and healthy salads  can be on your dinner table in no time.
Shepherd's salad 
Shepherd's salad is a classic Azerbaijani salad, found in many homes and restaurants, especially in summer.
Wash and dice the tomatoes, cucumbers and peppers. Finely chop the onion and herbs.
Mix all the ingredients together. Add salt and pepper and leave to stand for up to 1 hour before serving. Dress with 2 tablespoonfuls of vegetable oil before serving (optional).
Pomegranate salad
Pomegranate is one of the most favorite fruits of Azerbaijanis.
The history of Azerbaijan is inseparably connected with cultivating pomegranates, extending deep into the centuries. Pomegranate is the national symbol of Azerbaijan, that's why a special holiday is held every autumn devoted to this king of fruits. 
Stunning Pomegranate Festival is traditionally held every year in Goychay region since 2006.
Brightly colored and bursting with tart flavor, pomegranate seeds are total saviors when it comes to dressing up salads.
To cook pomegranate salad, dice the boiled potatoes when cool. Place in a salad bowl and sprinkle pomegranate seeds. Cut the red onion cut into fine rings.
Place the rings over the pomegranate. Finely chop the coriander and scatter on top of the onion rings. Add salt and mayonnaise and mix all inredients.
Serve with fresh crusty bread.
Khazar salad
The Caspian Sea is known for the large diversity of fish found there. In Azerbaijan cuisine there is a fish salad which has marvelous taste. This delicious salad is guaranteed to be a hit with your entire family.
Cut the fillet of sturgeon and boil over medium heat. Add salt and pepper and cook until tender for about 20 minutes.
Boil the potatoes for 30 minutes. Once they're done, remove the potatoes and let them to cool down. After that peel off its skin. Cut the potatoes and cucumbers. Then,  place the mixture on a serving plate and decorate with pieces of sturgeon. Garnish with sliced lemon.
Azerbaijan Salad
This light and fresh salad is sure to be great for side dishes at all your summer picnics.
Cut the tomatoes, cucumbers and radishes and place in a bowl. Peel the red onion and cut into rings. Season with salt and pepper and add the chopped dill. Gently stir in the sour cream, taking care not to damage the salad ingredients. Decorate the top with sour cream.