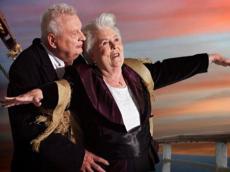 By Azernews
By Laman Ismayilova
Youthfulness is the best time of life. We can describe all the amazing things of this only period in life, which is usually remembered during all lifetime.
Unfortunately, one day you realize that 'forever young' is just a song.
Little wrinkles, several white strands of hair trouble many women.
Certainly, we should learn to embrace our changing faces and physiques as we get older, but admit it, who wouldn't want to look "good for her age".
Here are several advices, following which you will know how to prolong youth and to preserve freshness.
Those who like to sleep on your stomach, have to give up this harmful habit.
Wrinkles are caused by the loss of collagen and elasticity, which reduces skin volume. But applying repeated pressure, such as sleeping with the side of your face on a pillow against the collagen will promote its breakdown.
As you get older problems like swelling are particularly important.
Ordinary swelling around the eyes means you have an excessive accumulation of fluids. The skin around the eyes is the thinnest skin in the body and swelling can be quite prominent.
A good sleep will help you reduce your puffy eyes. The eye puffiness can be also the result of dehydration.
Make sure you drink plenty of water every day to keep your skin healthy. 
Hydrate and moisturize your skin daily. Keep your skin soft and hydrated with creams, lotions. You can also use totally natural products such as argan oil, sweet almond oil, grape seed oil, etc.
In order to stay young, take vitamin D. Some research suggests that vitamin D may be particularly important in slowing the aging process.
Eat intact whole grains an excellent source of vitamins, minerals and soluble fiber. They are also perfect fuel for those killer workouts.
Don't forget to get into the gym. Even 30 minutes of exercises a day prolong your life.  During the process of motion growth hormones become available, production of which is reduced after thirty years.
While we spend on hair tools, we're probably not doing much to care for and prevent aging hair.
Firstly, wash your hair less frequently. Use the type of shampoo dry that best suits your hair type. Don't forget conditioners and volumizers. These products will work like a splint to strengthen your hair, providing more volume per fiber. They also change the electrostatic charge so that fibers stand apart from one another and your hair has more visual volume.
Get the right cut and chose the perfect hair color for your skin tone. It may be the most painless way to look decades younger. 
As we get older, our complexions become paler, and having the wrong hair color can worsen the effect.   Therefore, take expert advice on your hair color.
Age is just a number! Stay young at heart. If you want to stay beautiful and young, keep your mind open to new experiences, look for beauty in everyday things, and always stay curious.