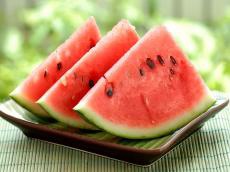 By Azernews
By Laman Ismayilova
Watermelon is a fruit that is beloved by many especially in hot summer season. Big, sloppy slices of watermelon are not only delicious and thirst quenching, but low in calories and very nutritious as well.
Each juicy bite has significant levels of vitamins A, B6 and C, lots of lycopene, antioxidants and amino acids.
This lovely fruit with tremendously appetizing purple palm is usually ripe in August in sunny Azerbaijan. But tjis year watermelons have appeared in capital markets starting early June.
The matter of interest is whether the fruit is useful or harmful for the human body and the conditions in which watermelons grow.
The Department of Vegetables and Melons Genetic Resources Institute of ANAS, PhD in biology, Sabir Hasanov said that today watermelons are grown prematurely by artificial intervention.
"In order to quickly grow watermelon, sprouts are covered with polyethylene. After the temperature increases, the polyethylene is removed, and a watermelon kept pace with 1-1. 5 month ahead of time. It has no connection with genetic modification of the product," he told Report.az
The expert also warned about the possible negative consequences of eating a watermelon ahead of its normal growing period. 
"Our generation used to eat watermelon in August. Therefore, in case you eat it in June, the body will just reject it. As for the new generation, their body adapts and therefore the consumption of fruits and vegetables before the season starts, does not cause them any problems," he added.
The head of the Department of sanitation and hygiene of Republican Centre for Hygiene, Epidemiology and Public Health, Ziyaddin Kazimov said that no complaints or facts of poisoning from watermelon have been registered this year in Azerbaijan.
Indeed, watermelons and melons are a favorite treat during hot summer days, but is it save to eat them? This is a common question that people ask in the summer months.
The head of the State Phytosanitary Control Service Jamal Quliyev told Trend that the quality of fruits is growing every year.
"Small number of watermelons and melons have been terminated this year. The farmers have improved their technology. They understand that too much fertilizer can negatively affect the product," he said.
Quliyev noted that mobile laboratories constantly check the quality of food products. At the same time, local agency carries out inspections in the field of sowing.
He also stressed that sometimes people don't eat melons the right way.
The head of the State Phytosanitary Control Service said that melons and watermelons should be eaten within two days after cutting.
Toxic substances may be formed in fruits during long-term storage. This is harmful for human body. However, watermelons and melons are the best fruits to eat in hot summer weather.
Watermelon is a "vitamin" food. One serving per day provides a healthy dose of Vitamin A and C, a good helping of vitamin B6 and high levels of the carotenoid lycopene.
Along with its health benefits, watermelon has a sweet taste with a water content of 92 percent.
Like most other fruits, watermelons are ideal for weight loss. Two cups of cubed watermelon have 80 calories but no fat. Choosing watermelon over junk food can save you a lot of calories.
Weight is the main indicator when buying melons – all melons should feel heavy for their size. Don't forget to look for a creamy, yellow spot. Watermelons tend to develop a patch where they are placed on the ground to soak up the sun. When you find it, it means that the fruit is ripe. This is called the 'ground spot'. If this spot is white or greenish it means the fruit may have been picked too early.
Tap it and hear the sound. A ripe one will have a deep hollow sound, while those that are under-ripe or overripe will sound dull.
Besides its cooling effect, melon offers a variety of health benefits. The high content of carotenoids in melon fruit can prevent cancer and lower the risk of lung cancer. Regular consumption of this fruit is effective in preventing and killing the cancer seeds that invade your body. In addition most melons contain B vitamins which account for most of your body's energy production.
Their nutritional value makes them beneficial for skin as well. Melon contains collagen which maintains the integrity of the cell structure in all connective tissues including skin.