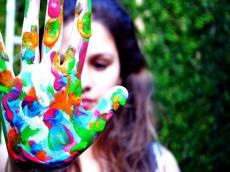 By Laman Ismayilova
Can the color you wear really affect your mood? Psychologists say 'yes'. The colors we choose affect us more than we think.
Colors that surround us can influence everything from our blood pressure to our appetite, mood and overall experience.  In other words, our favorite colors reflect the deepest parts of our personalities.  So, what your favorite color says about you? 
White color is the symbol of purity and innocence. It symbolizes wholeness, impartiality and independence. People who choose this color are neat, honest and sincere. They are often organized and logical.  However, too much of it can promote a certain emptiness and isolation.
Black color is associated with reticence, elegance, mystery and formality. People who choose black as their favorite color tend to be complicated realists with a need for control. Their realistic view of the world keeps their pessimism and moodiness in check, while their simple approach to always keeping things dark and dreary makes them appear far more sophisticated than they might actually be.
Black is also elegant, and chic.  You can never go wrong with this color, especially if you style with something unique. However, also dressing in black, we want to hide our feelings, true emotions, and flaws.
People who chose grey color are neutral about life, often to the point of being indifferent. If you love gray, you are trying to protect yourself from the chaotic outside world, even to the point of isolating yourself from others, leaving you with the feeling that you don't really fit in or belong anywhere.
Red is the most powerful color among all. The color strongly affects us mentally, as it is associated with energy, war, danger, strength, power, determination as well as passion, desire, and love.
If your color is red then you are bold, sexually charged, and want to make a lasting impression. Red increases the dynamism of life and the entrepreneurial spirit. People who reject this color feel a lack of vitality.
Pink is the color of gentleness, tenderness, kindness and sentimentality. Pink relates to unconditional love and understanding, and the giving and receiving of nurturing. The person, who chooses this color, prefers to live in a world of fantasy.
Pink is feminine and romantic, affectionate and intimate, thoughtful and caring. It tones down the physical passion of red replacing it with a gentle loving energy.
If blue is your favorite color you are reliable, sensitive and always make an effort to help others.
Blue is the deepest color, going into infinity. Blue is the color of heaven, of rest, relaxation and eternity.  It has a long list of meanings, including power, strength, intelligence, efficiency, loyalty, logic, trust, truth, cleanliness, infinity, serenity, contentment, understanding, technology, masculinity, security, immateriality, conservatism, coolness and cold, passivity, introversion, melancholy and depression.
Green is the color of perseverance, toughness and permanence. It boosts your self-confidence. Those who like green are generally social, loyal and frank. They live in a good neighborhood, and usually have many friends.  At the same time, people who chose green as their favorite color need recognition and afraid of foreign influence.
The one choosing yellow is a happy idealist who is underestimated far too often. . It involves a level of optimism that most people over the age of 10 just don't have. Because of this optimism, and the idealism that comes along with it, people who love yellow sometimes come off as whacky or aloof, but that's just because the moody folks are straight-up jealous.
In many cultures, yellow is associated with success, prosperity and power. It's is a symbol of generosity and nobility in Japan.
If a person fully rejects yellow, it means that you're feeling a state of emptiness or  severe irritation.
Orange is the color of warmth, bliss, joy, energy, freedom and strength. This color relates to adventure and risk-taking, inspiring physical confidence, competition and independence. It helps us to get rid of depression and anxiety
 Purple combines the calm stability of blue and the fierce energy of red. The color purple is often associated with royalty, nobility, luxury, power, and ambition. Too much purple brings out qualities of irritability, impatience, and arrogance. Too little purple brings out feelings of powerlessness, negativity, and apathy.