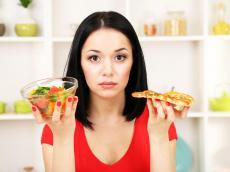 By Amina Nazarli
With the mercury levels attaining new highs everyday, summer seems to completely drain us out, making one feel dehydrated and low on energy in such a condition.
The hot weather changes our body, reducing the sleep time decreases and accelerating the chemical reactions. We want to drink more and eat less -- more probably because of dehydration of organism. Scientists claim that for every increase of temperature by 10 degrees it is necessary to reduce the number of consumed calories by 5-10 percent, i.e. not only eat less, but also choose low-calorie food.
Excess heat coagulates blood in our body, that's why, it's necessary to observe proper nutrition and consume plenty of water and liquid dish.  
What to eat in the summer, without overloading the body? What products, food and beverages will help to bear the heat easier? Here are some rules for the competent food for the season.
Hot weather instantly kill the appetite, which the nutritionists associate with improper feeding. In fact, there are five rules of proper nutrition: to consume more liquid, reduce the amount of calorie, consume more vitamins, i.e. fruits and vegetables, change meal time to earlier hours and be sure not to miss breakfast and dinner.
In very hot weather, doctors recommend to drink 100-200 ml of cool water (18-20 C degrees) in every 40-50 minutes. However, people with cardiovascular disease, hypertension, kidney problems, and those suffering from obesity should avoid using much liquid.
To help your body in extreme hot weather conditions, nutritionists advise to change the nutrition time, and in this case the main ingestion falls on the cooler times of the day.
It's recommended to have breakfast between 6:00-7:00, dinner before heat at 11:00-11:30 and supper at 18:00. Those who cannot sleep on an empty stomach, can have a light snack at 21:00.
Doctors claim that for good digestion, timely nutrition and food ration are very important. Moreover, it is recommended to stay away from fried food in extremely hot weather.
But the summer is not a reason to turn into a vegan. After all, presence of animal proteins in the menu is important for balanced diet. They are a "building material" for our cells. Moreover, they are necessary for a strong immune system. So it is not necessary to give up meat at all. Simply choose less fatty varieties of it, such as veal or chicken, or replace a juicy steak on a piece of fish fillet. Also, it's better to leave meat dishes for dinner, as in cool weather, it is more easily digested.
Together with the sweat our body loses precious vitamins and minerals, especially water-soluble vitamins C, B1, B2, B6 and PP. As a result, we experience fatigue, and weakened immune system may develop vitamin deficiencies. To avoid this, eat unlimited quantities of fresh seasonal fruits, vegetables and berries (best domestic rather than overseas), drink fresh juices, soft drinks and fruit drinks, and herbal teas.
PhD in medicine Adil Geybulla said light nutrition and much water consumption are very important in hot weather.
Since summer in Azerbaijan is very hot, in some critical days reaching more than 40 degrees C, many Azerbaijanis would probably never consider living or working in buildings without air conditioning.
Geybulla advised not to abuse the air conditioning, as being sprayed with cooled air it is very easy to catch a cold.
"If it's too hot outside, then it's necessary to adjust the air conditioner in appropriate temperature, so that it take humidity and normalize breathing. If the temperature is 30 degrees C outside, then it's improper to set the temperature at 18 degrees C. In this case the temperature should be at 23-25 degrees, so that not too cool to body temperature," he said.