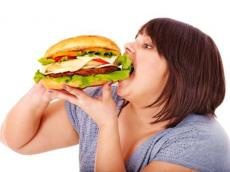 By Amina Nazarli
Overweight is one of the most common problems related to lifestyle today.
It's not no longer a secret that severe overweight or obesity is a key risk factor in the development of many chronic diseases such as heart and respiratory diseases, or diabetes, hypertension and some cancers, as well as early death.
An escalating global epidemic of overweight and obesity – "globesity" – is taking over many parts of the world. Today overweight threaten more than a billion of world population, according to the World Health Organization.
In Azerbaijan, in turn, some 60 percent of the population are suffering from overweight says Deputy Director of the Republican Endocrinology Center Babek Salek.
One of the major reasons of weight gain in the society, according to the doctor, is family traditions.
"In some families, members lead a healthy lifestyle, often walk and go hiking. In others there is a real cult of food. Although genetic factor is regarded as one of reasons for overweight, not always the genes are to be blamed for excessive weight. Food culture in the family plays its role in this matter," he told local media.
The statistics shows that childhood obesity has more than doubled over the past five years in Azerbaijan, however, some experts consider that the situation with childhood obesity is not acute in Azerbaijan compared to Western countries.
Meanwhile, the recent research among the CIS countries has shown that some 25.2 percent of women and 17.8 percent of men are suffering from overweight. Lithuania is the leader among post-Soviet countries by the number of people suffering from overweight and obesity.
Sedentary lifestyle, one of the fourth largest causes of preventable death, also causes to overweight and obesity. Salek noted that people today are moving less, "work of many are closely associated with computer, that's why active lifestyle seems impossible."
Effect of fast-food on obesity is probably known to everyone, and new fast-food cafes also contributed to increase of number of overweight people.
"Me personally object the sale of fast food and soft drinks in school canteens," the doctor said.
Salek claims that women are more vulnerable to overweight.
"For adolescent girls overweight may contribute to increased production of male hormones, what can increase body hair. Often obesity is due to hormonal problems. But very rarely someone sees a doctor in connection with obesity," he said.
Feeling of fullness typically presents immediately after or within 20 to 30 minutes after eating. That's why doctors recommend to eat slowly and in small portions.
Today people are taking any measures for weight loss including medicine and surgery such as gastrectomy, which brings to the removal of a part of the stomach.

"I am against such measures, because the stomach produces a variety of hormones and cutting it just to please your body figure is a wrong decision," he said.
Another way to get slim is liposuction, and its supporters believe that there is nothing easier than to sleep thick, and wake up slim. However, Salek believes that liposuction, like any surgery, can be traumatic, and there is no guarantee how it will end.
Looking slim is a desire of everyone, but is that worth such radical solution? Yet one should decide by own, but the most secure approach would be wiser.