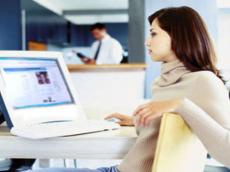 By Amina Nazarli
Today, social media has grown so big that it cannot be overlooked when considering job duties. More and more employees start the workday not by reading emails, but by checking the messages on their personal pages in social sites.
Social networks like Facebook, Twitter and LinkedIn have created a buzz in the business world, and not all employers agree that use of social networks in the workplace is good for productivity.
They become a real "headache" for entrepreneurs, since employees may spend too much time on social networks. In fact, not all managers are willing to put up with this situation, and fortiori, to pay for the work hours spent on the Internet.
Some studies show that the activity on social media may over time, enhance certain skills that contribute to better performance in the workplace. However, experts also underline that excessive use of social networks has a detrimental effect on productivity and encourages moderation.
Many countries discussed the issue of prohibiting use of social networks in workplace, but mostly labor ministries rejected proposals noting that such questions should be regulated by collective agreement and local normative acts.
Fatima Samadova, an experienced HR specialist believes that social networking in the workplace should be used for professional activity, but not for private purposes.
"If an employee spends his /her working time on social networks, it is an indicator of low occupancy or a poor performance. Of course, this does not apply to those whose work is directly and exclusively related to the social media marketing," she said.
Although many consider social networking as time-wasters, a number of studies have shown just the opposite, proving that social networking may actually increase one's job productivity.
They claim that some time spent chatting with friends on the social network is capable to perfectly distract employees, give the brain needed rest and recharge, and thus, as a result, increase productivity, raise morale and prevent fatigability.
"About the improvement of productivity, many can say that workers relax while checking their social network page or the news feed in a couple of minutes. But to be honest how one can assess how much, a worker can rest when he/she continues to look at the monitor or screen. It definitely does not improve workers' performance," Samadova belives.
Since social networks are a primary vehicle of communication today, and because much of that communication is public, it's no surprise some HR-s and marketing managers utilize these sites in their hiring process.

"For HR professionals, in particular for our company, aside from finding candidates, it's also a good way to know a person better, as you can draw some conclusions about the nature and interests of a candidate through his/her social network page," the specialist stressed.
To keep its staff away from the distraction of social networks in the workplace, some companies defined a social media policy by limiting the use of company property for personal internet media.

Experts believes that such kind of restrictions not always give positive results, as employees think that their bosses try to limit their freedom and increase workload .
This, in turn, reduces the motivation of people, their loyalty and desire to devote all their efforts to work for the company.

Samadova believes that companies can ban use of social networks among employees who are not required to use them for job. "This practice is normal and allows a person to concentrate on daily work. Employees who want to update their news feed will still find a way, because it is impossible to prohibit use of social networks from personal mobile devices," she said.
"If an employee claims that needs social network for work duty, but he/she uses it for personal purposes, then first we give a verbal warning and the second time -- written warning. This adds responsibility to the employee. Of course, if such incidents are repeated, it makes sense to think about how good the employee performs his/ her duties," Samadova noted.
Among the most popular social networks Facebook is the leader in Azerbaijan and favorite of both older and younger generation. Then cames Twitter and Instangram.
Worldwide, there are over 1.59 billion monthly active Facebook users which is a 14 percent increase year over year. The number of Azerbaijani-speaking users exceeds 1.5 million as of November 2015.
The number of Azerbaijani companies promoting their services and products via social networks increase every day. Telecommunications companies occupy leading position in Azerbaijan in number of users on Facebook, according Sosial Bakers.