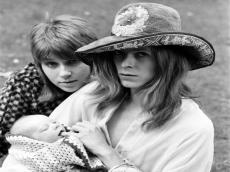 Millions are mourning the death of David Bowie at the age of 69. His song Kooks, extolling the possibility of good parenthood by unconventional mothers and fathers, is receiving a lot of attention on social media.
"Will you stay in our lovers' story?" David Bowie asks in a song addressed to his newborn son Zowie. "If you stay you won't be sorry, 'cause we believe in you."
Kooks, from the 1971 album Hunky Dory, looks ahead to parenthood, alongside his then wife Angie, with optimism. It offers advice to a child growing up in unconventional circumstances.
"I bought you a pair of shoes, a trumpet you can blow and a book of rules on what to say to people when they pick on you," sings Bowie. "'Cause if you stay with us you're gonna be pretty kooky too."
Kooks isn't among Bowie's most famous songs. The better known Changes, Life on Mars and Oh, You Pretty Things all appeared on the same album. But many of his fans have taken to Twitter to praise it in the wake of his death, noting its anthemic quality, its openness and acceptance of difference.
"Among many other things, Bowie wrote perhaps the best song ever about fatherhood: not a command but an invitation," writes Patrick O'Neil, a history professor at Methodist University, in Fayetteville, North Carolina.
"Every teenager who listened to this, in whatever decade, thought Bowie believed in them," writes Neal Curtis. "I love David Bowie more the older I grow. And his song Kooks is pretty much my parenting anthem," adds the cookery book writerShauna James Ahern.
Kooks looks ahead to Zowie's school years, urging him not to pick fights "with the bullies or the cads", adding: "And if the homework brings you down, then we'll throw it on the fire and take the car downtown."
Bowie performed Kooks at a BBC session on 3 June 1971 - three days after Zowie's birth. "I'd been listening to a Neil Young album and they phoned through and said that my wife had a baby on Sunday morning, and I wrote this one about the baby," he told the studio audience.
The rest of Hunky Dory flirts with madness, surrealism and Bowie's own artistic and, sometimes very dark, philosophical obsessions. When it was released later that year, Bowie remembered that newborn Zowie had looked like him and Angie, adding that "the song came out like - if you're gonna stay with us, you're gonna grow up bananas".
Bowie is seen as a pioneer in championing - often indirectly - those excluded from mainstream culture because of sexuality, dress or lifestyle. Throughout his career, he defied convention.
In 1972 he revealed in an interview to Melody Maker magazine that he was bisexual. "I'm gay and always have been, even when I was David Jones (his birth name)," he was reported as saying in the 22 January issue.
David and Angie Bowie both had drug problems. The couple split, Bowie gaining custody of his son after their divorce in 1980.
"Kooks seems to be written from the perspective of a member of the gender-bending counter-culture, who's struggling to figure out how to be a parent when all the examples of fatherhood around him mimic the authority structures those folks were fighting against," says O'Neil. "Bowie solves that problem by inviting his child into his life."
Hunky Dory was not a huge commercial success on its release, selling far better later on, after Bowie's next album The Rise and Fall of Ziggy Stardust and the Spiders from Mars became a hit.
"It's got some big and bold songs on it," says music writer Paul Stokes. "Kooks is a quiet little song that resonates." Many of Bowie's songs don't explicitly deal with his own life, focusing instead on fantasy characters, he adds, whereas Kooks "openly" does so, giving a glimpse of his life before superstardom.
Zowie changed his name at one stage to Joe. But, aged 18, he decided that, as his full name was Duncan Zowie Haywood Jones, he would exclusively use Duncan as his forename. "I did always feel in his shadow when I was growing up," he once said in an interview. Duncan now works in the film industry, having done his training under that name.
Bowie used the word kooks in a similar way to those calling themselves "geeks" today, as a mixture of self-deprecation and conscious differentiation. The Oxford English Dictionary defines a kook as a "cranky, crazy, or eccentric person". Its first known use was in the Daily Mail in 1960, which said: "A kook, Daddy-O, is a screwball who is 'gone' farther than most." It probably dates back further.
The British rock band The Kooks named themselves after Bowie's song. "Genuinely devastated," they tweeted. "The legend has gone and left a hole in our hearts. Thanks again for the band name."
Kooks, the song, was created "as a playful letter, advising Duncan to give his kooky parents a chance", the US author, artist and screenwriter Miranda July has written. "Now when I hear him sing the line, 'We believe in you,' it makes me want to cry. They're begging him to stay and believe in them, too. From the moment your kids are born, you're always losing them."
Duncan remained very close to his father until his death. "When I was in my twenties I was a miserable sod," he said in 2009. "I like me now. I'd love to go back and put my arm around my shoulder, and say: Calm down, enjoy life, it's not that bad!'"
Kooks isn't a parenting guide. Bowie acknowledged that he had had problems, like any other father.
"I've got a son, now, a sweet little boy who turns five this Wednesday, and I'm not sure that 'What would David Bowie do?' is the best mantra for a parent," says O'Neil. "The funniest part of the song is Bowie thinking about how awkward it will be to have to punch the fathers of mean kids.
"But the song is such a tonic, reminding me that the most important thing I can offer my son is love. Thinking about my son and hearing the words 'We believe in you' recur through the song, it makes me well up. What better welcome could a parent give a child?"