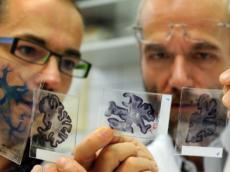 High levels of stress in older people contributes to Alzheimer's disease, according to a new study. But don't let the news stress you out – separate research suggests two to three drinks a day can lower the risk of death from the disease.
A study by researchers at the Albert Einstein College of Medicine in New York and the Montefiore Health System followed 507 people enrolled in the Einstein Aging Study, a group of adults aged 70 or older who live in the Bronx borough of New York.
"Our study provides strong evidence that perceived stress increases the likelihood that an older person will develop" lead researcher Richard Lipton said in a press release.
The volunteers underwent neuropsychological tests, clinical evaluations, examinations of medical histories and evaluations of daily activities.
The participants also had their stress levels evaluated by the researchers using the Perceived Stress Scale (PSS). The volunteers were given scores from zero to 56, with higher numbers indicating increased levels of perceived stress. They were tracked for an average of 3.6 years.
The findings – published in the journal Alzheimer's Disease and Associated Disorders – showed that those in the highest quintile of five PSS tiers were found to be two-and-a-half times more likely to develop mild cognitive impairment, which is often a precursor to Alzheimer's disease.
Another explanation was the potential for reverse causality, meaning that those drinking very little alcohol were already in the terminal phase of their life – which would have artificially associated the positive effect of alcohol in patients.