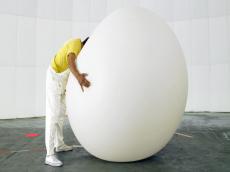 When Cheryl Bachelder took over as president of fast food giant KFC in 2001, she had reached the job that had been her life's goal.
Within three years, after what she described as 14 months of "terrible" revenue numbers, Bachelder found herself unemployed for the first time in her career. She had been fired.
"At that moment, you're really mad and you're looking for people to blame," Bachelder recalled. "There was a point where I really dwelled on it."
Bachelder went into consulting. She spent more time with her kids. She served on the boards of major companies, including KFC's biggest rival, Popeyes Louisiana Kitchen. And, more than anything, she figured out that she shouldn't be looking for other people to blame for her firing.
In 2007, the Popeyes board picked one of its own to become the next CEO.  Bachelder was given the top job at the company and said she was determined to learn from her previous mistakes.
"I just had a better idea of my convictions and what success meant," Bachelder said. "I came to realise the true test of a leader isn't whether I'm successful but whether I can help the people around me reach success."
The new approach worked. When Bachelder took the helm, Popeyes had reported seven years of declining sales, with dated restaurants and menus failing to attract customers. But after Bachelder took over, Popeyes increased revenues six years in a row, adding new stores internationally as other fast-food chains, like McDonald's and Burger King struggle.
Bouncing back after getting fired and reaching the top once again is a challenge not all managers will face. But many in senior positions will encounter some form of professional rejection in their careers. And, it can come in many forms, from lost promotions, to budget cuts, or high-profile projects or clients that go to another department or company. Often, the best leaders have experienced a major rejection, and perhaps a very public embarrassment, before they reached the top.
If you're in a position of management, a rejection is definitely going to happen," said Sherry Thatcher, professor of business administration at the Darla Moore School of Business at the University of South Carolina in the US. "But when it does, it's important to see every rejection as an opportunity."
How to react
For the manager who's just faced rejection, the first step is to realise that it's not always about you. If you didn't get the promotion or the new project approved in your budget, it's easy to view the rejection as a comment about you as a leader, Thatcher said, instead of viewing it as a setback and taking into account all the other factors that likely led to the decision.
Often, the best leaders have experienced a major rejection before they reached the top.
"There's always a sense that it won't happen to me if I'm smart enough and work hard enough, that I'll be safe," Thatcher said. "That's really not the way of the world."
Perhaps the toughest part of rejection for a manager is dealing with professional perceptions, said JP Pawliw-Fry, president and co-founder of the Institute for Health and Human Potential in Ontario. The passed-over person will feel like their peers and employees are judging them, and worse, downgrading their worth.
No doubt those emotions can be trying, often as tough as a death in the family, Pawliw-Fry said. Searching for a counsellor, someone to talk with about what happened, is key. But for a manager, it's also crucial to consider the public perception of how you react.
Those pivotal moments — that phone call delivering bad news or the moment the HR director handed you the severance package — will also be hard to forget. Our brains often sear high-pressure moments into our memories far more than the good times. It's our way to learn from what went wrong, Pawliw-Fry said.
The key, then, is to learn from those moments and start thinking about what's next, Pawliw-Fry said. Consider that Steven Spielberg faced three rejections from film school before he was accepted or that Oprah Winfrey was fired from her first job as a TV anchor.
After accepting what happened, the key is to remain authentic, Thatcher said. If you're the manager of a department and were just passed over for a promotion, acknowledge that you've had a setback. If you don't, your employees might think you're angry and ready to jump ship, which could affect their performance and reflect negatively on you as a manager.
Perhaps the toughest part of rejection for a manager is dealing with professional perceptions.
For managers who work internationally, it's important to understand how a rejection or setback might be viewed by those working in your overseas divisions. In Asia, Thatcher said, it's rare for companies to make public that several people are up for one job, to avoid the public shame associated with getting passed over. In Europe and North America, meanwhile, there's often a very public competition between managers up for a promotion. This means that if you didn't get that big promotion, your staff in Germany may expect you to offer an analytical reaction, whereas your office in China may expect you to show remorse, even embarrassment.
Back on top
For Bachelder, the experience of getting fired taught her an entirely new way to manage. When she joined Popeyes, her main goal as leader was to enable her employees to succeed, instead of worrying about her personal success.
"I ask my employees, 'Why are you here? What's the purpose of your position?'" Bachelder said. "Once they realise why they go to work, it's a lot easier to pinpoint their purpose and what success looks like."
Bachelder recounts her fall from KFC and her turnaround at Popeyes in the book Dare to Serve. In a phone interview, she said she's certain that she couldn't have realised her Popeyes' success without first facing the rejection of getting fired. She said: "The trials in my life are entirely responsible for any success I've had."
If you're a manager grappling with rejection, the message is clear: someday you'll be stronger for it.