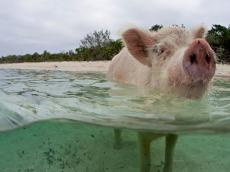 with perfect beaches and idyllic waters, the islands of the Bahamas are a dream destination," says Chris Packham. "But something unexpected is taking to the water …" Cue something-unexpected-taking-to-the-water music (yeah, not so different to a certain film about a shark). And an alarmingly shaky camera to show the high level of terror about the place.
"All of a sudden these things were beginning to swim towards the boat, and I don't know what they are, why they are in the water," says Mike, a Canadian, who saw it for himself and somehow lived to tell the story. "I was trying to swim around them quickly and they were faster than me. They were shooting every direction, these legs, but they were swimming fast …"
Oh my God, it sounds absolutely terrifying. What the hell were they? Giant squid, perhaps? Leviathans?
Pigs! Oh. A few feral ones live on this uninhabited island. No one really knows how they got there. They've learned to swim out to visiting boats because the tourists feed them. Several of the hotels organise trips – there have been articles in the Telegraph, the Metro, the Mail, they're all over YouTube. Can they really be one of Nature's Weirdest Events (BBC2)?
Also, Mr Canadian Mike, did you really not not know what they were, these terrifying creatures swimming around you in the crystal clear waters? Perhaps the snouts were a clue, the trotters, curly tails, oink oink? Or the food scraps the boatman was throwing in the water, on the boat tour, to go and see the famous swimming pigs? Is it even that surprising that pigs can swim? Pretty much anything can swim if it has to, can't it?
Hmm, could it be that, having reached series four, they're running out of Weird Natural Events? A resource running low or, less politely, a barrel being scraped?
It does get a bit better. A thing called a bobbit worm that occasionally turns up in … sorry, strikes terror into aquariums, is quite fun, in a long-nasty-burrowing-wormy kind of way. Also the wasp that captures tarantulas for its babies to eat alive. What about "this mystery giant terrorising the residents of an Australian neighbourhood" though? No mystery, but a Southern Cassowary, native of the area, and just a bit bolder since its old forest home got burned down.
They do their best, provide "leading experts and the top scientific brains". Chris throws hyperbole at it, and alliteration (that tarantula is a "living larder for her larva"). But it's still basically a bunch of clips, all of which you can find for yourself – it's not just the pigs that are on YouTube. There's very little in the way of thread or theory or thought (apols, I'm at it too) to make it something meaningful. You'd hope for more from the BBC's Natural History Department. And if Chris Packham is thinking of succeeding to Sir David's crown, he needs to get involved with better than this.
Respect is maybe not something you often associate with Channel 5, but they deserve a load of it for Suspects. The detective drama, back for a third series, clearly doesn't have much of a budget. The cast is about seven people; they've got one car. As for locations, they just seem to point the camera up at any shiny building and hope you'll accept that as a busy central London police station. (Also that roof, where DS Charlie Steele and DS Jack Weston go for sneaky fag breaks, is it really supposed to be the roof of the same police station?)
Who needs flash locations when you can cram drama into an interview room? And you've got a compelling plot and strong, credible performances from Clare-Hope Ashitey and Damien Molony as the smokers, and Fay Ripley as their detective inspector. Improvisation doesn't always work – it's a proper skill, probably harder to pull off convincingly than regurgitating a script convincingly – but here it does. They speak like actual people, even actual police officers maybe. Budget-schmudget, I'm involved.
What do you get if you reimagine Cormac McCarthy's The Road for an Inbetweeners audience? With a hint of Lord of the Flies and Nathan Barley perhaps. Cockroaches (ITV2), that's what. Maybe more Teachers actually, than The Inbetweeners, especially with Jack Whitehall in it, as a post-apocalyptic cult-leader, scooter-riding, yardie-youth-speaking moron.
Oddly, it kind of works. Very silly, obviously. But funny.
/By Guardian/