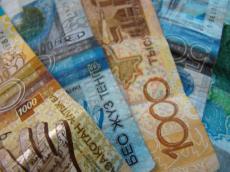 The rate of the Kazakh tenge continues to fall, according to the data from the official exchange rates, posted on the website of the National Bank of Kazakhstan.

As of October 1, 2015, the rate was 270.98 tenge per dollar, but it has been steadily falling throughout the entire month, and on October 28, it reached the level of 278.92 tenge per dollar. On January 1, the rate of the national currency of Kazakhstan stood at 182.35 tenge per dollar, while on October 28, 2014 it amounted to 180.87 tenge per dollar.
Earlier, on Aug. 20, the National Bank of Kazakhstan, with the aim of ensuring the implementation of a new monetary policy, canceled the currency corridor for the tenge's rate and switched to an inflation targeting and free floating exchange rate.

As a result, the tenge's rate against the US dollar fell by 26 percent.
On Sept.16, the National Bank of Kazakhstan said it started to hold the foreign exchange intervention due to the increased volatility of the exchange rate of the tenge, which is due to speculative operations of participants of the currency market in the absence of objective and significant changes in fundamental macroeconomic factors. As a result, tenge rose to 264.12 per dollar on September 24-25. However, after that, the tenge exchange rate began to fall again.

Last time the foreign exchange intervention in order to maintain the exchange rate of tenge was held October 9.

The national currency of Kazakhstan against the euro since the beginning of the year fell from 221.59 tenge per euro to 307.98 tenge per euro as of October 28. The exchange rate against the Russian ruble fell from 3.13 tenge per ruble to 4.39 tenge per ruble.