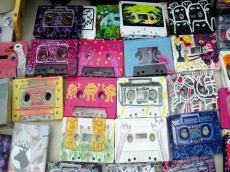 I was one of those teenagers who insisted on being in charge of the record player. If friends came round, I made them listen to this, but also this and this and this. Having settled into a track, I'd get impatient to play them the next and would yank the needle off the record and put on another. A mixtape is a version of this. It's someone who loves music wanting another person to love the same music and by extension to love them. Like a collection of model aircraft or china dolls, it says "This is who I am and what I know and what I can show you."
You can tell from my mention of record players that I was a teenager some time ago. My adolescence spanned the late '70s and early '80s, the time when the mixtape reached its peak. Records were expensive and often hard to get hold of, and so if we had access to a cassette deck, we made copies for each other. Portable cassette players – the early boom boxes –made it possible to carry music around with us – if it was on tape.
Mixtapes were full of bumpy starts, abrupt endings and the thunk of buttons being pressed
Suddenly I had the opportunity to interfere with the order of things. Rather than put on an album and listen straight through, or leap up and down changing records, I could arrange things exactly as I wanted. The process was neither simple nor smooth. There were inputs and outputs and levels to be adjusted. I had to make sure the cables were all in the right sockets, press RECORD and PLAY and then PAUSE so that the tape was ready, get the record spinning on the turntable, drop the needle then immediately release PAUSE. At the end of the track, I had to pause again and cue the next song. Mixtapes were full of bumpy starts, abrupt endings and the thunk of buttons being pressed.
The ideal mixtape should also signal "I know who you are and what you like and I have thought about that." Your selection should give the recipient a way in, something they recognise. If they're a Rolling Stones fan, you might want to add some blues by Lightnin' Hopkins or John Lee Hooker. If they like Amy Winehouse, you might offer a gospel or soul singer such as Bessie Banks, perhaps singing Go Now, which you can casually mention is the original and definitive recording, not the hit version performed by The Moody Blues.
Cassettes would slacken and come adrift – you'd have to use a pencil to rewind them
The mixtape could be geared to a certain occasion or time of day: dancing or driving or gentle listening. Or it might travel the arc of a night out from Rihanna's Red Lipstick and Deee-Lite's Groove is in the Heart to Burial's Night Bus. A mix could be seasonal. Who's going to listen to the Isley Brothers' Summer Breeze in November? Then you'll be wanting dry, melancholy, spare sounds surely? Perhaps Miles Davis's Sketches of Spain?
Rich mix
The card insert into the cassette case was the visual key to the tape. Decisions had to be made about whether to type the listings, write them by hand, cut letters out of newspaper, say nothing, draw, paste, burn… The insert might be crammed with detail: timings, producers, featured musicians, or it might just say Dance or New Wave. Cassettes, like records, wore out. They would slacken and come adrift and get chewed up by the player and you'd have to use a pencil to rewind them. They became visibly worn down. For years I kept these empty cases.
The first mixtapes I made weren't mixed at all but straight copies of albums with a few songs tagged on the end to fill space. It was when I started to explore influence and history that I got interested in creating something nuanced. It became important to be eclectic, and to pitch a selection so that it was subtly pleasing to the connoisseur. So you might include something from Missa Luba, the Congolese setting of the Latin Mass used in Lindsay Anderson's film If, about a boy's boarding school, and follow it with Alice Cooper's School's Out. Then you'd make a link to the musical South Pacific, or some cocktail jazz so long as it was clearly ironic.
This makes it sound as if the mixtape is more about the person who made it than its recipient and I'm sorry to say that in my case it often has been. Ten years ago I was still making mixes that were a version of "Listen to this and listen to this." Wasn't I aware that he had no interest in jazz or that she had never been to a disco? I have a favourite track, which I usually couldn't resist including, called Yoo Doo Right by the '70sGerman avant-garde rock band, Can. It's a 22-minute-long psychedelic deconstruction, which is like telling someone in enormous detail about your most boring dream. It's not exactly going to advance your cause.
Press rewind
There are mixtapes that I've played to destruction but which define the memory of a time and place. Once, when my life abruptly changed, I propelled myself through it all on a tape of pounding rock anthems that I've not wanted to listen to since: U2, Santana, Simple Minds. There was a mix I made for driving to work 25 years ago that now, whenever I drive along the Thames, I can hear Soul II Soul followed by The Jam and Ella Fitzgerald. That peculiar constellation is fixed in my memory because of that tape.