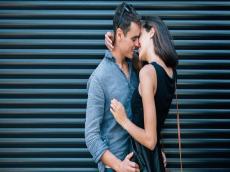 I was strutting down 6th Avenue in New York the other day, rocking my first fall outfit: a leather jacket, Donna Karan booties and, of course, tortoise shell sunglasses.
It was a beautiful, crisp morning in the West Village, and I was, for lack of a better term, feeling myself.
I had gone to school here, and I had fallen in love here. For a moment, I thought about the boyfriends I used to be arm candy to, and I missed being a lauded accessory to another person.
But suddenly, I remembered: I don't belong to anyone. I get to keep me all to myself, and that rocks.
I can't say this is a feeling many of my girlfriends can relate to, but I truly hope someday they can. Recently, I've noticed most of my friends simply cannot exist without a man.
They're serial daters, or "relationship people," and I truly feel for the women who cannot navigate their lives without gentlemen in the equation.
I've watched each of my friends lose themselves and minds in relationships. First, she stops picking up the phone. Then, she starts ditching out on plans. Finally, she begins justifying feeling sh*tty, becoming blind to the fact she's dating a loser who is completely beneath her.
My jaw drops when my friends justify the stupid actions of their f*ck buddies and boyfriends. The disturbing part is this happens to my most logical of friends who, if they could see themselves now, would slap themselves in the face.
I was once at a barbecue with a friend whose boyfriend silently stood by as one of his friends insulted her. She ran out of the house crying.
Later that night, she somehow ended up ditching me to spend the night with her boyfriend, kissing him on the driveway and telling me how amazing he was.
I'm sorry, did I miss something?
And I'm guilty, too.
I remember a friend calling me out, saying, "Camille, you have nothing else to talk about besides these guys. The world is such a big place. Don't you have other interests?"
Terrifyingly, at that moment, I couldn't answer. I literally could not remember what hobbies and interests I previously had. I mean, we've circled Pluto, and I couldn't remember what I liked?
Before anyone starts with the feminazi comments, I want you to know I've experienced life alongside a truly good man. My first boyfriend was kind and loving, and he set the bar high. (Sorry fellas, but he sold you out.)
He confirmed all the ways I suspected a man should treat a woman were possible, and anything less was pure laziness.
Today, I'm going on my ninth month of singledom since my most recent breakup. This last one brought me back to reality. (Shoutout to you, Ray!)
I ignored all the red flags. He was unemployed and had no interest in finding a job, his friends didn't respect women and he wanted to rush into a relationship.
He ended up being mentally and emotionally abusive, telling me what I wore to bed wasn't sexy, ordering me to stop calling him "baby" in public, demanding I speak to him in a certain tone of voice and deciding he was only going to call me any endearing names exclusively while he was f*cking me.
Amazingly, that last bit of news was delivered to me deadpan, across the table in the middle of a fancy restaurant. Somehow, he broke up with me in a Dunkin' Donuts parking lot, a week before Valentine's Day, after we had just made our dinner plans.
Though I had initially begged him to stay friends with me, I slowly realized our relationship had actually sucked.
I remembered all the times I silently cried on the phone as he turned any problem back on me. I remembered that wasn't the way it was supposed to be. I remembered the boyfriend who had loved me.
Most importantly, I remembered my dignity, and I promised myself I would never let someone treat me like that again. (By the way, after brushing me off and treating me like garbage, that same guy won't stop asking to see me, a very happy eight months later.)
I felt more alone in my last relationship and in the hookups in-between than I have in my whole single life.
Loneliness is a place in your mind and your heart, and even a boyfriend can take you there. If it hadn't been for the boy who had proved to me gentleman exist, I wouldn't have known to step back from my breakup and check myself.
I realize some women aren't so lucky. They just don't know how it should be.
Please know that life is supposed to be fulfilling and happy, no matter who is or is not by your side. And if it isn't, dump that guy.
You do not need a guy to fulfill you, and honestly, if he does complete you, that's a problem. It means you were incomplete to begin with.
I once heard at a wedding that giving your partner 100 percent is not enough. You should both be able to be and give 120 percent, so that when one person can't give it all, the other can balance it all out.
How do you expect to give the right guy your best, when you haven't even taken the time to be on your own and discover what your best looks like?
It helps I was raised by parents who never put a relationship at the finish line for me and my sister.
In fact, when I told my Dad about all the recent engagements of women my age, he responded, "So? Is that really all you aspire to?" The answer, I realized, is no.
I aspire to continue making a living in entertainment. I aspire to paying for vacations, jewelry, fancy dinners and an apartment all on my own. I daydream about the marble finish in the entryway of the home I'm going to buy for myself, and the look on my Dad's face when I give him the vintage Porsche he always wanted.
I made my first "big girl" purchase recently, a four-night vacation to a luxury, oceanfront hotel in Miami. And man, it felt amazing walking away from a French dinner on the beach, knowing I was the one who earned it.
I want all of you to experience this. But it might just take stepping out of that sub-par relationship to get there.
Are you ready?