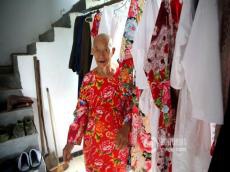 It seems like the elderly are embracing fashion like never before. After Gunther Krabbenhoft, who charmed the internet with his sense of style, and Baddie Winkle, the coolest-dressing grandma online, we now have 80-year-old Liao Dezhong – an amateur designer who models his own eccentric dresses.
Dezhong, a widower from Sichuan Province, has designed over 10 garments so far, including a long white dress and a cotton print dress that went viral. His tryst with design began after he lost his cellphone to a pickpocket. He then tried to stitch additional pockets and zippers into his outfits, and eventually started designing clothes himself. Loose, flowing dresses with plenty of pockets are now his trademark style.
The white dress, for instance, has five pockets. "I can put my cellphone inside the middle one, keep my keys in the one on the right, put cigarettes into the one on the left, and keep some money in the upper two pockets," he explained. That way, he doesn't need to carry a purse and risk losing everything at once.
Each dress costs Dezhong less than 60 yuan to make. "Three meters of cloth cost around 42 yuan while the tailoring and five zippers cost an extra 10 yuan," he said. But Dezhong is his own client – he hasn't tried making money out of his creations yet. He dons his own clothes and meets other elderly people to show them off every day.
Dezhong has apparently had a creative streak all his life. "My dad was a carpenter when he was young and he made clothes hangers and wardrobes," his youngest son Liao Qianjie said. "He has been displaying his creations on the streets since last year and they've been drawing quite a lot of attention and some mixed reviews from residents. But I don't care what other people think. I just hope he stays happy."