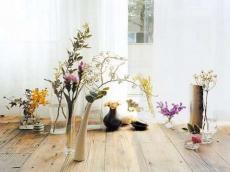 By Amina Nazarli
There is nothing more delighting than the sight of delicate, fragrant and bright flowers, to cheer the soul.
Having a beautiful and comfortable home does not just entails having comfortable furniture, or well-chosen wallpaper, it is about bringing the beauty of nature in your environment, by incorporating plants and flowers to your décor.
The most beautiful of homes can never be complete without a touch of green. Plants give homes dimensions and depth.
House plants breathe life into interiors, while cleaning the air as they grow. The trick is to recreate their natural environment. House plants breathe life into interiors, while cleaning the air as they grow. The trick is to recreate their natural environment.
Flowers may not only promote a positive mood or give people feelings of warmth and tranquility, they also fill up space, and have the ability to transform any dull room into a haven of tranquility.
Many cannot even imagine just how much a space may be transformed by flowers.
Treating your apartment to some fresh-cut flowers is one of the best ways to instantly make it look brighter, more cheerful and just plain prettier.
Bright, fresh cut flowers instantly improve your mood. Specialists say that people with fresh-cut flowers in their homes are most likely to feel less worried and experience fewer periods of anxiety or depression.
Other research have proven that flowers make people happy when gifted with them. So, spending a few days with flowers in your home can affect a wide variety of feelings.
Fresh flowers besides of their beauty also refresh memories. Also, nothing smells quite as nice. Smell is one of the most powerful senses and can trigger instant memories.
The reason why some people do not like to keep fresh flowers at home is often link to the fact that their life span is rather short. That's why most people prefer to take care of their own plants rather than buy cut flowers from a florist. For many people taking care of potted plants is a hobby. Looking after live plants is a source of many pleasures for many amateur botanists. Plants become their children.
Indeed, potted plants are living organisms, so it is normal for people to develop feelings of attachment. They tend to them, care for them and even talk to them psychologists have said.
Potted plants are also a great way of saving money since they cost less than flowers and need not to be replaced as often.
And you do not even need a garden to grow them. A small outdoor space is sufficient to create your own flower heaven.
Beyond being beautiful and fragrant, potted plants deliver a wide range of health-promoting benefits.
Potted plants, placed on your working table have been shown to stimulate creativity while promoting concentration. So, put a vase at your desk because they can also spark your creativity while you're at work.
Some people, however, prefer artificial decorative plants to natural flowers.
It's probably lazy people, as artificial plants besides their aesthetical purpose also require very little maintenance. They bring luxury into a home without the fuss of changing water .
The only issue with them is that they are dust collectors and from time to time they need to be washed, so you cannot really escape tending to them.
Beautiful flowers make us happy by their presence. Do not forget to add beauty, comfort, and warmth to your decor, as they are always the perfect accessory.