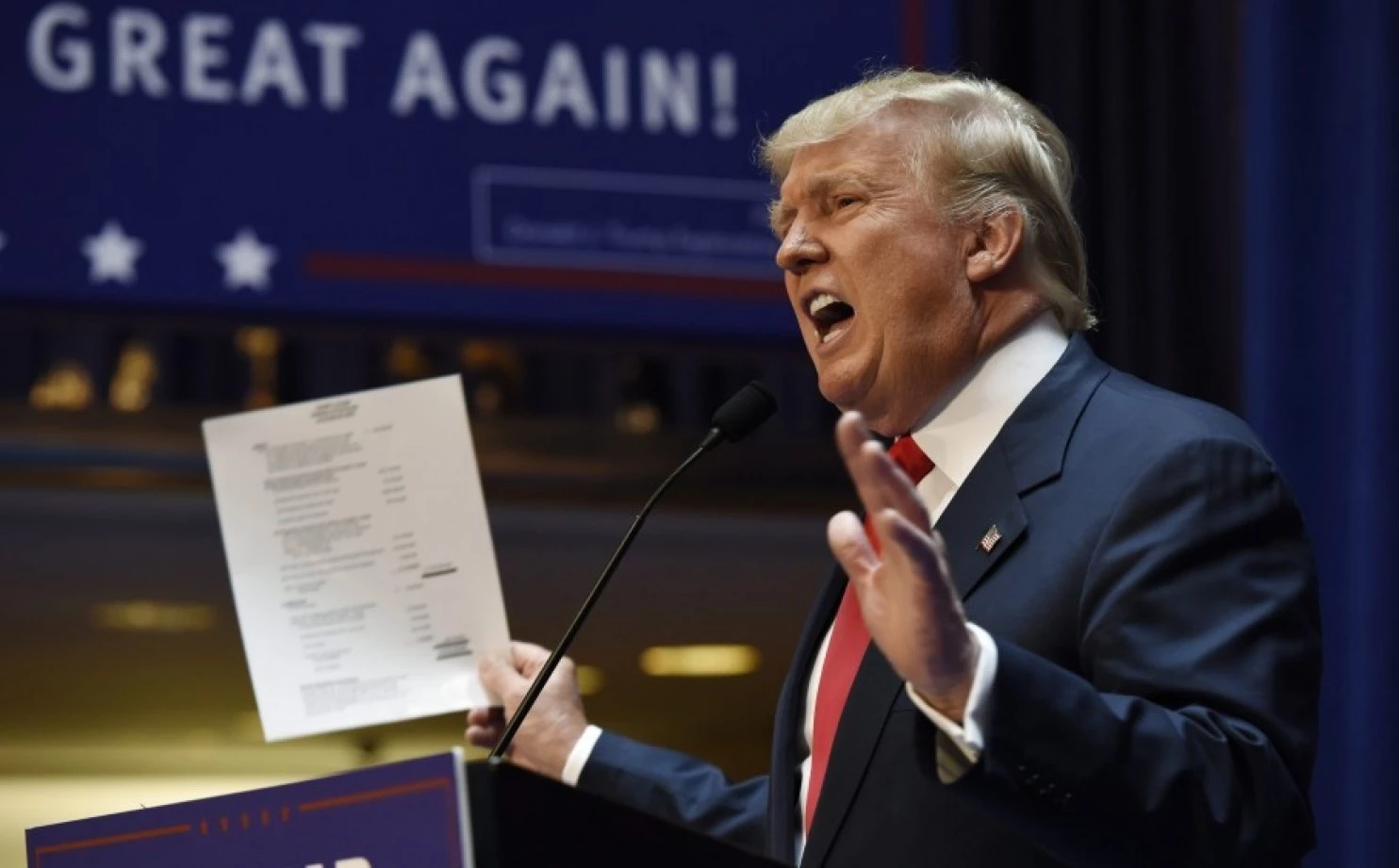 If Donald Trump was a YouTube sensation, he'd be the honey badger. He talks like he just don't care, people laugh, and none of it seems to hurt him.
The notoriously brash real-estate mogul and reality-television star did little to soften his image for a recently announced presidential run as he headlined the Maryland GOP's annual Red, White and Blue fundraiser Tuesday night.
Not surprisingly, Trump attacked President Obama and Republican opponent Jeb Bush with harsh rhetoric during a speech lasting more than 50 minutes. But he also delivered a bit of a slight to the audience, telling the crowd of about 600 paying guests at the BWI Marriott in Linthicum that he hadn't initially wanted to come, but had done so anyway as a favor.
Perhaps it was fitting, then, that he meticulously scrubbed his hands with a sanitary wipe after finishing grip-and-grin photos in a VIP line, as though he were cleansing himself of lowly, fawning supporters.
[Trump: 'I'm being very nice now. I'm trying to be presidential']
Trump also did himself no favors among Hispanic voters as he tried to explain the controversial comments he made about Mexican immigrants during his campaign announcement last week, when he suggested that most border crossers are rapists and narco-criminals. "Some, I assume, are good people," he said at the time.
On Tuesday, Trump backed up his assertions with an anecdote about two U.S. border agents who told him that people who cross the border illegally are not good for the country. "They said, 'They're killers, they're rapists, they're drug dealers,'" he recalled.
Trump also suggested that reporters have misconstrued his true feelings about the immigration issue. "I love Mexico," he said. "I love the Mexican people. But I said we need a strong border."
The audience, predominantly white, didn't seem to mind the candidate's tone. Nor did they seem particularly inclined to vote for him.
"He's a little bit of a lightning rod and entertaining, but very intelligent," said Barbara Nye, an accountant from Elkridge, Md. "He's probably not somebody who needs to be president, but he does have some good ideas that are worth listening to and worth talking about."
Similarly, FedEx driver Ken Collins, of Glen Burnie, Md., said he appreciates Trump's approach.
"I like somebody who's not afraid to say what he thinks," Collins said before the speech. "But I don't know much more about him, as far as his politics."
Trump's appearance in Maryland, where registered Democrats outnumber Republicans more than 2 to 1, came one day after he finished second among Republicans in an independent New Hampshire poll. Bush finished first.
[Bush narrowly tops New Hampshire poll — with Trump a close second]
"I can't believe Bush is in first place," Trump said. "This guy can't negotiate his way out of a paper bag. So I'm in second place to Bush. I hate it."
Trump focused much of his speech on Obama's job performance, saying the president and his administration appear "stupid" and "incompetent" in general, not to mention "desperate" in nuclear negotiations with Iran.
When asked about the recent civil unrest in Baltimore, Trump said Obama has done little to uplift inner-city Americans, adding that African Americans in particular have "never done more poorly."
Trump insisted that he would help the city by bringing back manufacturing if elected president.
"You have to create spirit," he said. "You have to create jobs. You have to get people working, and they have to want to work."
Trump showed hints of a softer side with considerate words for Maryland Gov. Larry Hogan (R), who announced this week that he is battling advanced non-Hodgkins lymphoma.
[Hogan's cancer means a new and uncertain governing reality for Md.]
"I've met your governor, I respect your governor, and he is going to beat this," Trump said. "Give him my regards."