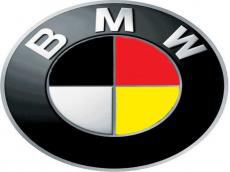 Faced with the frightfully capable Mercedes-Benz S-Class, a car that all but drives itself (and sometimes does), BMW has nevertheless set new standards for automotive gee-wizardry.
A keyfob contains a smartwatch-style LCD screen that relays all manner of vehicle data. A tablet computer controls wifi-based multimedia functions. Audio volume can be controlled by a finger wag in mid-air.
Of more visceral delights, the top-line 750i accelerates from zero to 62mph (100km/h) in 4.4 seconds.
Notes Vijay Pattni over at Top.Gear.com:
There are plenty of sensors to tell you about traffic and other cars, and plenty of assistance to make sure you don't join them in a tangled mess.
The seats are new (and massaging, if optioned). There's a panorama glass roof (again, if optioned). There's even the option of a 'remote control parking' mechanism, whereby you can manoeuvre the 7-er into and out of a tight spot from outside the car, using just the key. Superb, right?
The BMW 7 Series is due in showrooms worldwide by end of 2015. In the US, pricing begins at $81,300.