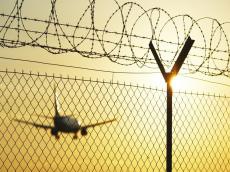 A young woman approaches airport security in a pair of stiletto boots, designer sunglasses, and a big wide belt that matches her fashionable handbag. All that glamour, however, is about to disappear.
Boots, belt, glasses and purse land in a plastic tray, and the woman is suddenly looking a lot less like a member of the international jet set.
Perhaps she is also asked to step into a full-body X-ray scanner. Depending on the technology used, the security official may well see everything there is to see, on a monitor that may show her completely nude. At least the scanner will spare her a hands-on pat down – unless, of course, there's a suspicious object.
It's a procedure frequent flyers are painfully familiar with, one of those things that are deemed necessary to get from Point A to Point B by air. "People increasingly expect to be treated like cattle at airports," says Gus Hosein, executive director of UK rights group Privacy International. "What we have seen over the years is a large level of security theatre, and more worryingly ridiculous technologies being deployed with little thought."
But security experts believe the ever-evolving technologies are justified. Eric Zanin, senior vice president of one of the leading security screening and imaging firms, Analogic, says that security technology and screening methods simply must continue "to adapt to changing threats".
Full-body scanners
Airport security is one of the least popular aspects of travel, according to a passenger survey conducted by the International Air Transport Association (IATA). Airports have realised this, and some are now making efforts to make the experience of being touched, scanned and having your suitcase rummaged through as painless as possible, while maintaining the same level of scrutiny.
The biggest annoyance is queuing time, followed by the need to remove electronic items, restrictions on liquids and requirements to take off belts and boots. Pat-downs are less of an issue, as is the use of full-body scanners.
As it happens, full-body scanners were supposed to reduce queues – and improve security. They were first introduced in 2007, to replace or complement metal detectors, but began to be widely used in the wake of a failed Christmas 2009 attempt to blow up a plane over Detroit with a bomb smuggled past security in the would-be bomber's underwear.
Driving the rollout of the full-body scanners was the US Transportation Security Administration. There are two types of these scanners currently in use: 'millimetre wave' machines that use non-ionising radio waves to produce a three-dimensional image, and backscatter scanners that use X-rays.
However, at first these scanners dramatically increased queuing time, because every time a scanner detected something suspicious, it would trigger an alarm and a full pat down would ensue.
Privacy concerns
It also didn't take long for people to wonder just how much the scanners were actually seeing, especially after the media published a picture of the head of the TSA's research lab, Susan Hallowell, which showed her being scanned and appearing rather nude. It was an eye-opener for many, and privacy groups took up the cause. Soon officials acknowledged that the technology had to be tuned down a bit. By mid-2013 this type of scanner – each of them worth about $175,000 (£113,600) – had gone from US airports.  
In most other countries they have disappeared too, replaced by millimetre-wave machines running privacy software called Automated Target Recognition. Instead of an all-too-revealing picture, they generate a cartoon-line body image that identifies the location of a potentially suspicious element so security staff can carry out a pat-down. "It's a security scan designed for privacy and for smart detection," says Ron Louwerse, the director in charge of safety, security and environment at Amsterdam's Schiphol airport.
Airports hope these new measures will allay people's concerns, says IATA's communications manager Chris Goater.
But then, people aren't really that worried about what can be seen on body scanners, says Steve Wood, who teaches public, international trade and terrorism law at Leeds Beckett University in the UK. He has spent four years researching the aviation passenger experience in the UK – and found that actually most people don't really mind. In a survey of 711 people, 77% said they would actually welcome additional body scanners – and only 11% thought scanning was a privacy intrusion.
That's probably because there has been "a shift to a [more] robust pat-down," says Wood. "I have endured three of these myself, one this month – and I think there is a much more firm pat near the groin area, and waist bands are being checked by the officer's fingers moving back and forwards. The pat-downs are intrusive but I would suggest effective."
Getting more intimate with the pat-downs may seem to run counter to a general move towards using technology to boost security, but overall "the technology of screening prohibited items has improved, as have signs preparing passengers for security checks," says Wood.
More queues, less waiting
Procedures vary from one airport to the other, of course. Plucking laptops out of the suitcase and putting all liquids in a transparent plastic bag is now pretty standard for hand luggage around the world. But some airports want all shoes to go through the scanner, while, for example, Frankfurt Airport in Germany asks passengers to remove any kind of electrical chargers from their bags.
So to cut down the queues, airports are now introducing what could be described as procedures to optimise the workflow, based on the Smart Security System developed by IATA. In London's Gatwick Airport, for example, passengers are now guided to form several queues at each X-ray machine's conveyor belt. It makes the process of picking apart one's luggage much more efficient. On the other side of the security check, meanwhile, passengers are offered numerous desks to repack their stuff, with dividers offering a semblance of privacy.
Amsterdam's Schiphol airport uses a similar system to load the trays and cut down the queues, while a new auto scan system performs an initial assessment of the content of the tray, and shows the operator an image only when it spots a suspicious item. "This means fewer images [to check], allowing the operator to concentrate on the images that do require attention," says Louwerse. Hand luggage that needs a second check is then split from the stream of approved trays, and goes through another X-ray machine at the end of the lane. "Baggage no longer needs to be returned to the X-ray in the lane, which saves time and is much more practical," says Louwerse.
The system is part of the Schiphol Security Experience initiative, which tries to provide security as a service, not a cumbersome necessity. Schiphol also will end its practice of having security checks right in front of each gate, and introduce instead – from June this year – a more conventional centralised security checkpoint. The airport hopes that this will end its notorious, snail-pace queues.
MRI for luggage
But it's not just about making security faster; Schiphol's new security areas have been designed to radiate calm, with plants, noise-reducing materials, wood-covered ceiling and more natural light. Security staff, meanwhile, had to go through a retraining, learning not just security but hospitality as well, says Louwerse.
And scanner technology may soon help after all, says IATA's Goater: "In time, liquid and laptop scanners will hopefully enable people to keep these items in the luggage."
Researchers believe they may already have a solution. Scientists at Los Alamos National Laboratory in New Mexico, for instance, have come up with a system called MagRay, based on the scanning technology developed for medical applications – a combination of X-rays and nuclear magnetic resonance, which is used in MRI scans. "We combine the two methods to discriminate benign from threat liquids," says Michelle Espy, a physicist at Los Alamos and MagRay's project leader. Trials at Albuquerque airport were "favourably received by screeners," she adds – although the project has run out of funding for now.
US company Analogic, meanwhile, uses a 3D-scanning system for hold luggage, which is based on medical computed tomography, or CT (an imaging system which produces cross-sectional images or "slices" of anatomy). It is adapting this technology to work for checking carry-on luggage, and is currently testing its technology at London's Luton Airport and at Schiphol.
But until the technology is rolled out on a larger scale, we'll have to keep stuffing our toiletries into those transparent plastic bags for a little while longer.
Passport control is another pain point for passengers, although during the past few years border controls have become increasingly digital and automated, with computerised passport gates and machines processing traveller information.
'Intelligence gathering'
Goater is convinced that the rise of biometrics has boosted security hugely. "If an individual is able to swap passports with someone they physically resemble, they might get through a human visual check, but an iris scan would catch them". E-passport gates also speed up the flow of passengers. Gatwick, for instance, prides itself on keeping queue time in security under five minutes, thanks to facial recognition technology.
But Hosein from Privacy International says that these security innovations are mainly focused on enhancing "opaque surveillance systems" rather than improving the passenger experience. "We have no idea what background processing is going on to decide whether someone should be stopped or not," he says. "The technology is now available to monitor and profile each and every traveller, even before he or she leaves home — in fact, even as you purchase your ticket, the profiling begins. Yes, this is to aid efficiency and 'passenger experience', but the priority is about revenues. And intelligence gathering."
It's a value judgement we also have to make for another innovation that may – or may not – make security go easy on some passengers, but not so on others. Some airports are using behavioural analytics to spot potential criminals, with algorithms sifting through security camera footage in real-time, trying to identify unusual behaviour.
"There have been significant advances in algorithmic surveillance for basic scrutiny, for example observing that all passengers go the right way through security zones and to identify anyone moving in the wrong direction," says Steve Wright, who specialises in policing technology at the UK's Leeds Metropolitan University.
With superior scanners, better biometrics and smarter systems for queuing, airport security may indeed get that little bit less annoying. However, it's unlikely that technology will spare us all embarrassments at the X-ray machine, as security staff tell us to dress down.