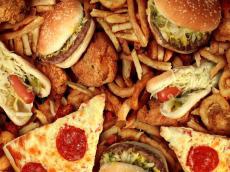 There's nothing like the salty tang of beef-flavored Top Ramen broth and a mouthful of slightly overdone instant noodles. At least, not for me. I'vegone on record about my obsession before, writing about how ramen noodles helped me get through adolescence. But the truth is that I crave it still, especially when I'm tired or sick. You probably have something similar in your personal food pantheon ? the craving that tops all other cravings, the comfort food whose sensory portrait you can paint in your head over and over while you stand on the subway on the way home or creep slowly dinnerwards through the traffic.
Not all cravings are so familiar ? have you ever craved something you'd completely forgotten about, like a discontinued flavour of doughnut or a salad dressing from a long-ago garden party? Pregnant women are said to crave extremely unlikely food combinations, from ice cream and pickles to strawberry and tuna. But all cravings worthy of the name seem to have that singular intensity. They feel like important messages from your body.
But they're not. Eva Kemps, a professor of psychology at Flinders University in Adelaide, Australia,  explains that despite a long folk tradition of trying to link cravings to nutrient deficiencies ? I need this chocolate, for biological reasons! ? that's not the case. One common justification for chocolate cravings, for instance, is that the cravers are deficient in magnesium, which chocolate can provide. But many, many foods, including spinach, contain more magnesium than chocolate, which is the most commonly craved food in Western societies. "Funnily enough, people don't crave spinach," she observes.
Hormonal factor
There are many rationalisations of this kind. But cravings are more strongly linked to emotions and external cues that evoke memories ? while being hungry can certainly be a factor in starting cravings, they are more psychological than physiological. Being sad, anxious, stressed, bored, or lonely is often the trigger for a craving, Kemps says.
Food as a comfort doesn't explain the precision of cravings, exactly, except for the fact that we often crave foods we've had prior experiences with. We also tend to crave things that we've just seen a picture of or that appear in our vicinity. (When muffins appear in your office mid-afternoon, it doesn't matter if you've just had lunch. You want that muffin.)
It's not that biology is never involved. Statistically, women tend to report significantly more cravings in the days just before their periods, and the cravings of pregnant women as well suggest that there can be a hormonal component to these particular desires. But whether that's something that actually plays a nutritional role or just noise in the neurons, Kemps couldn't say. And obviously cravings are more universal than pregnancy or menstruation.
Regardless of their origins, cravings can be extraordinarily intrusive. Experiments have shown that they make it harder to perform cognitive tasks, suggesting that they are hogging some limited amount of mental bandwidth. James Wannerton, the taste-word synesthete interviewed for this column recently, experiences distracting cravings all the time, triggered by the sensations words generate. He craves mince pies so frequently that, despite not liking them, he has to keep them in his freezer, so he can eat them to get the thought of them out of his mind.
Visual cues
To understand the process of craving and see how it might be interrupted, Kemps and her colleague Marika Tiggemann have studied exactly what it feels like. They asked 130 subjects to recall a craving they'd had and write down a description, collecting what amounted to lyrical rhapsodies about the object of desire. They found that people don't think about sound or touch all that much in cravings, with visual images playing a major role, along with imagined taste and smell, of course. They wondered whether having people imagine non-food images, like rainbows or rose gardens, could nip cravings in the bud.
As it turns out, these imaginings can lessen the intensity of cravings. Another team has found that they could smother subjects' cravings by having them play Tetris. But the alternative visual process doesn't even need to be engaging. Staring at TV static works too, Kemps says. She and her colleagues are now planning to see whether they can distract people before cravings develop into full-blown mental images, when they are still vaguer desires.
If cravings get out of control ? if they are a constant feature of one's day ? that can of course play havoc with health, since eating the desired items can mean a pile-up of unnecessary calories. (It might worth playing a little Tetris at your desk while those muffins are outside.) But if cravings are more intermittent, Kemps has some surprising advice. "It's actually better to let yourself have it," she says. "The stronger the craving's going to become, then you're going to be fixated on it."