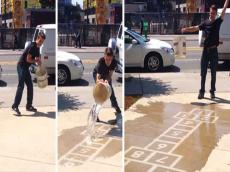 A heavy downpour can spoil the best of plans, but who says you can't have fun with a bit of rain? Proving the fact is Seattle-based magician and artist Peregrine Church, with his rain-activated street art, called 'rainworks'. These paintings are invisible to the naked eye when dry, only making an appearance when it rains!
Church said that he's passionate about making things that make the world a more interesting place. "Rainworks are pieces of street art that only appear when they're wet," he explained, "and they're messages or images designed to make people's rainy day a little bit better." He calls it the "ideal Seattle art" because of the constant rains in the city.
Using stencils and super hydrophobic coating, he paints positive messages and familiar games such as hopscotch on various streets around Seattle. The protective coating forms a waterproof layer that is invisible to the naked eye. When it rains, the droplets of water roll off the painted surface, revealing the hidden message or drawing.
Interestingly, superhydrophobic coatings have other uses as well – the spray-on coating can be used on clothes to make them completely liquid-proof. We've also written about how it was used to create urine-deflecting walls to discourage public urination. In fact, that's how Church got the idea for rainworks. As he watched videos of several people using the spray for various fun projects, he wondered what would happen if he sprayed through a stencil. He then discovered that it would be invisible if sprayed on to concrete. When the concrete gets wet it becomes dark, except for the waterproofed parts that repel water and stay light-colored.
Church recently revealed that he uses 'Always Dry Wood & Stone' – a product by waterproof coating technology company Nanex. The product is supposed to be completely non-toxic, environmentally safe, and biodegradable. The paintings are temporary – lasting up to four months, and slowly fading away with time – so they don't cause any permanent damage to property.
When Nanex realised how Church was putting their product to creative use, the company quickly caught on with the trend. They are now using the clever technique as a part of their marketing strategy. "Always Dry nano-coating solvent can be used by parents or event coordinators for playing different games," they said.
"With the help of it, they can hide various messages and artworks that can only be revealed through water. You can just create different messages on footpaths, trees or walls spraying Always Dry over them. Then, using water guns, your children, friends or colleagues will spray these parts and find out those messages that will lead them to the next clue."
Meanwhile, Church has created 25 to 30 'rainworks' all over Seattle. Some of his quirky messages include: "Stay Dry Out There," "Error 404: Sun Not Found," and "Proud to be Rainy."