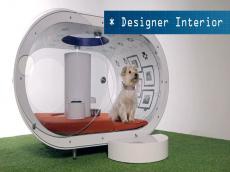 Samsung UK has come up with a real treat for dogs and their owners – a high-tech dream house for dogs. The unique pooch pad comes fully loaded with an automatic food dispenser, a grass turf covered treadmill, a hydrotherapy pool, vinyl walls that the owner can cover with photos, and a Samsung Galaxy Tab S for the dog's browsing pleasure. With a price tag of £20,000 (roughly $30,000), the Samsung Dream Doghouse is being touted as the most expensive doghouse ever.
"With the Samsung Dream Doghouse, we wanted to reflect the nation's growing trend for using technology," said Samsung Electronics UK president Andy Griffiths. "From dogs who have social media profiles to owners who use video calling to check on their pet while away, technology is fast becoming an integral part of everyday life. The Samsung Dream Doghouse looks sleek and modern, featuring the kind of tech the discerning dog of the future will need."
According to Samsung, the company surveyed 1,500 dog owners and found that 25 percent of them wanted treadmills, tablets and TVs for their pets. 64 percent believed that their pets would benefit from more technology and gadgets, and 18 percent said that their pets needed hot tubs. So the prototype futuristic kennel built in six weeks by a team of 12 Samsung designers and fabricators.
"The curved shapes and softness of the materials give it a modern and futuristic look and feel," said Brian Dowling, Director of Production. "It's a natural shape for a dog to be able to curl up into."
The Samsung Dream Doghouse was displayed last week at the Crufts dog show in Birmingham. Another model was also given away via a social media contest earlier this month.