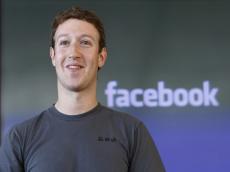 Mark Zuckerberg and his wife will donate 25 million dollars to the Center for Disease Control (CDC) Foundation to aid in the fight against the ongoing Ebola epidemic in West Africa, RIA Novosti reported referring to the Facebook CEO.
"Priscilla and I are donating 25 million dollars to the Centers for Disease Control Foundation to help fight Ebola," Zuckerberg announced on his official Facebook page.
"We believe our grant is the quickest way to empower the CDC and the experts in this field to prevent this outcome," he added.
The CEO and his wife Priscilla Chan are making the 25 million dollars donation in response to projections that the Ebola virus could infect 1 million people or more within the next few months if left unaddressed. Zuckerberg stressed that the Ebola outbreak is "at a critical turning point," adding that the disease needs to be controlled so that it does not become a long-term global health problem like HIV or polio.
"Grants like this directly help the frontline responders in their heroic work. These people are on the ground setting up care centers, training local staff, identifying Ebola cases and much more," Zuckerberg said in his post.
"We are hopeful this will help save lives and get this outbreak under control," he added.
According to the assistant director general of the World Health Organization (WHO), some 8,914 people have been infected with Ebola during the world's worst outbreak of the disease to date. Dr. Bruce Aylward also announced that 4,447 Ebola-related deaths have been reported to WHO as of now. The disease continues to spread in West African countries including Liberia, Guinea, Sierra Leone, Nigeria and Senegal.
/Trend/