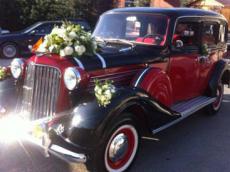 By AzerNews
Azerbaijan offers tourism entertainments to meet all tastes. Car fans are no exception. Retro cars fans will fully enjoy while visiting Baku. For this end, we need to head for Auto Retro Club in Bilajari settlement of Binagadi district.
The club has gathered a growing number of auto enthusiasts across the country. In the club, you can find such unique vehicles as Pobeda M20, GAZ-21, Moskvich 403, BMW, Opel, Buick and many other rarities from the USSR, Germany, Italy, England and France.
The oldest car of the club - Ford V8 - is almost 100 years old, which is quite a few for an "iron horse".
Nevertheless, all cars of the club are in their best form, as the club not only collect, but also renovate them. One of such cars is Opel Admiral that was produced in 1937. It was found in Gadabay region in a very poor condition. The car is now under restoration.
The club also offers its customers the opportunity to restore their vintage cars.
All cars of the club have their own captivating history. Some of them were cars of famous people, and some were brought from abroad. You can hear similar stories from owners of the retro cars.
Love to antiquities, and especially vintage cars were the main idea behind ??creating the Auto Retro Club, that start operating from 2001. For this period, the club gave a second life to 27 cars, six motorcycles and many other antiquities. The club also holds a variety of car devoted to significant dates.
Starting from this year, the club has turned into a museum of the retro cars, open for everyone. However, the club has not only cars but also interesting antiques, including old photos, models of cars, as well as literature. The club is open for new members, all fans of cars, both old and new.
Not only retro car lovers, but ordinary people enjoy observing the rich collection. For those who get hungry during the tour, the club suggests delicious dishes of the restaurant covered by green trees.
Here you can enjoy Caucasian hospitality and Azerbaijani folk music. The menu includes both local and European cuisine. In summer, there is also a possibility to eat on the open air at a huge veranda overlooking a beautiful pond and exquisite garden.
Beside taking million of selfies with these magnificent cars, you can even hire a retro car here, have a ride in the city and collect admiring gazes dipping into the atmosphere of the vintage times.