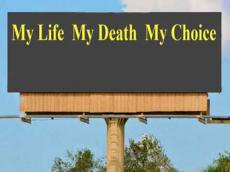 A Swiss organization that helps people take their own lives and defends their right to refuse medical treatment says it has seen a higher number of applications than usual this summer.
Exit said it was receiving 60 to 100 new membership requests daily from people who wanted to make living wills - documents specifying how they want to be medically treated if they are gravely ill and unable to communicate.
Unlike in previous years, the number of applications has not slowed during the months of July and August when people tend to be away on holiday, said Bernhard Sutter, vice president of Exit, which was founded in 1982.
"It's an indication that more people than ever want to join," said Sutter, who expects the number of applications to rise above 100 per working day once the summer is over.
About 18 months ago, Exit was receiving 30-60 applications per day.
Exit attributed the increase to a greater desire among people to determine the course of their lives and growing acceptance among a younger generation of doctors.
"The generation now turning 40, 50 or 60 years old, which is the typical age that a person joins Exit, is used to making their own decisions," he said.
"People want to be sure that even if they are unconscious, even if they have dementia, they will be treated according to their wishes."
Exit, which provides lethal drugs to help the terminally ill die, said its membership was around 75,000. The organization helped 459 people in German-speaking Switzerland die by assisted suicide last year, 100 more than in the previous year.
Assisted suicide has been legal in Switzerland since 1942, if performed by someone with no direct interest in the death. It is however illegal for someone to deliver the lethal dose rather than just making it available to the person who wishes to die.
Exit currently employs 20 people but is looking to hire more to cope with the growing administrative burden, Sutter said.
In May, Exit members voted to extend its services to elderly people who are not terminally ill to give those suffering from psychological or physical problems in old age help to end their lives, which is legal in Switzerland.
Critics argue that permitting assisted suicide may lead vulnerable people to take their own lives under pressure from potential heirs or because they fear they are a burden on family.

/Reuters/