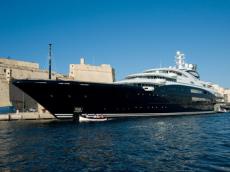 These days, Microsoft founder Bill Gates is more concerned with helping to save the world than creating the next big gadget. But when the world's richest man goes on vacation, he does it like no one else.
The New York Daily News captured some photos of Gates aboard "The Serene," a $330 million dollar yacht that Gates and his family are renting for $5 million per week.
In addition to its 12 staterooms, the 450-foot, seven deck vessel also comes equipped with its own saltwater pool, climbing wall, library, health spa, outdoor theater and even a nightclub spread out over the boat's combined 48,000 square feet.
Though for all his wealth and influence, Gates doesn't actually own "The Serene." He's renting it from Stolichnaya vodka distributor Yuri Scheffler. The Russia-born Scheffler is an interesting figure himself, famous for battling with Russian President Vladimir Putin, who tried to nationalize and "redistribute" Stolichnaya's wealth.
According to Business Insider, Serene is the third most expensive yacht in the world. You can check out a video of the yacht during a recent visit to California in 2012 that was taken by a fellow, overwhelmed boater.
Though he does not own a yacht himself, Gates seems to be a fan of them. In 1994, he was married about a yacht belonging to his fellow Microsoft co-founder Paul Allen. Allen famously bought his own mega yacht a few years ago for $200 million, the Octopus.
Still, even if Gates doesn't own his own yacht, his choice of vacation rentals certainly trumps that of Bill and Hillary Clinton, who were in the spotlight on Friday after it was revealed they were renting an $18 million Hamptons estate for about $30,000 per week.
According to the Daily News, Gates and his family regularly make use of the Serene's on board helicopter to travel for tennis matches at the "billionaire's playground" of nearby Porto Cervo, while the boat is stationed off the coast of Sardinia. And like Allen's yacht, the Serene also comes with its own submarine.
All in all, not a bad way to spend a few weeks before getting back to reinventing the toilet.

/Yahoo/