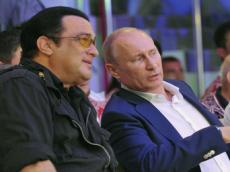 Hollywood actor and singer Steven Seagal has played a gig in the Crimean city of Sevastopol in defiance of international sanctions against Russia's seizure of the Black Sea peninsula last March.
The actor played a set of songs with his blues band late Saturday at an international bikers' event with a strong pro-Russian theme.
Fans waved Russian flags as the singer played guitar on a stage decked out with the black, blue and red flags of Ukrainian rebel group the Donetsk People's Republic.
The shows, organized by Russia's Night Wolves biker group -- which has close links with Russian president Vladimir Putin -- featured video screens with images of the Ukrainian army shelling cities in eastern Ukraine.
Sevastopol is home to Russia's Black Sea Fleet and was the scene of violent clashes during the annexation of Crimea.
Seagal has made no secret of his support for Putin and happily tried on a T-shirt with the Russian president's image on it during the concert, Russian state news agency RIA Novosti reported.
In a Russian newspaper interview last March, Seagal was quoted as saying that Putin's desire to protect Russians in Crimea was completely reasonable.
The actor's views have proved controversial, and three weeks ago, promoters of an Estonian music festival Augustibluus removed him from their lineup.
Seagal seems unabashed and told Russian television that he had traveled to Crimea because music brings people together. "It's true," Seagal added in Russian.
The U.S and EU have imposed sanctions on Russia over its annexation of Crimea and for allegedly providing weapons to anti-government rebels in eastern Ukraine.
Fears have been growing in recent days that Russia may send troops into eastern Ukraine where the Ukrainian army is leading an offensive against rebels in and around the city of Donetsk.
On Saturday, U.S. president Barack Obama, Germany's president Angela Merkel and British prime minister David Cameron warned Putin that any unilateral move into Ukraine would be seen as "illegal" and "provoke additional consequences."

/Yahoo/