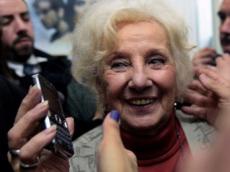 Estela Carlotto's wish was to hug her grandson before she died -- a dream not easily granted to those like her who had a family member snatched at birth during Argentina's military dictatorship.
During her nearly four-decade journey, she became the leader of the Grandmothers of the Plaza de Mayo, a famous group of Argentine activists dedicated to reuniting kidnapped babies with their birth families.
And this week, she learned her wish will come true, when the Abuelas, as the group is known, announced that Carlotto's own grandson has been identified through a DNA test.
More than 100 people have been reunited thanks to the efforts of the Abuelas, but the news that the search for the group's leader is fulfilled struck a strong chord in Argentina.
"He searched for me," Carlotto told reporters. "What the grandmothers say came to be: 'They will come search for us just as we continue to search for them.'"
The kidnappings of children by government forces during Argentina's 1976 to 1983 military dictatorship is among the darkest chapters in a period commonly called the Dirty War.
Carlotto's daughter, Laura, belonged to an urban guerrilla group called Montoneros, according to the Abuelas. She was in her young 20s when she was arrested -- kidnapped, the activist group says -- and imprisoned in 1977. Laura was 2½ months pregnant when she was detained.
On June 26, 1978, she gave birth at a military hospital to a son she named Guido. But afterward she was returned to her cell without her baby. Two months later, she was executed, according to the Abuelas. Her remains were exhumed and identified in 1985.
The dictatorship left Estela Carlotto without a daughter, and in the dark about what happened to her grandson. But she has said in interviews that she never lost hope that he was alive.
"He's beautiful," she told a reporter, her voice filled with the same tenderness of a grandmother doting a newborn's photo.
But for the moment, details about her grandson's life remain few to protect his privacy.
The 36-year-old man identified as Guido Montoya Carlotto is Ignacio Hurban, director of a music school in the city of Olavarria, about 220 miles southwest of Buenos Aires.
According to the Grandmothers, Hurban had some doubts about his life story and in June initiated contact with the Abuelas with his suspicions. He submitted to interviews with the group as well as a DNA test that confirmed the match.
A crowd of supporters burst into cheers when Carlotto retold the moment when she got the call that "this is your grandson with 99.99% certainty."
It isn't clear when the man first had doubts about his origins, but the group mentioned that in the past he had participated in events for the Grandmothers.
Among the first to call Carlotto after the news was revealed was Argentine President Cristina Fernandez de Kirchner. Both women cried as they celebrated the outcome.
And as for that long-awaited hug, Argentina's state-run Telam news agency reported that grandmother and grandson would be reunited for the first time in person Wednesday evening.

/CNN/