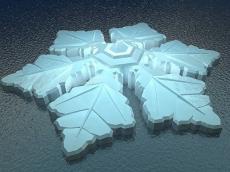 The Krystall hotel will doubtless inspire a few gags about a frosty reception when it opens in December 2016, but once guests realize they're about to check in to a giant floating snowflake, it could just as easily melt hearts.
The 86-room luxury venue has been designed by architecture firm Dutch Docklands for the Norwegian city of Tromso, offering clients a unique destination and an unrivaled spot from which to view the northern lights.
"We call it a scar-less development," architect Koen Olthius tells CNN, explaining why the five-star Krystall will sit in icy waters off Tromso's rugged coastline rather than on dry land.
"Because it's floating, we do not have any impact on that location. If you take it away after 100 years or so, it will not leave any footprint.
"That's the only way to bring a hotel to such a precious and beautiful marine environment."
Olthius says the Krystall has been inspired by the floating architecture widely found in his low-lying Dutch homeland, but will be on a far grander, and more opulent scale that is hoped will attract wealthy visitors from Japan, Russia and other parts of Europe.
"In the hotel, you'll float through hallways lined with cool, futuristic blue shapes, recline by a fireplace faced in transparent bricks resembling ice blocks and sleep in rooms tricked out in minimalist, winter-themed designs," he adds.
/CNN/