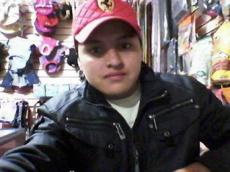 A vet who posed with a gun for a selfie died shortly after shooting himself in the head by accident.
Oscar Aguilar showed off on Facebook by posting photos of himself in front of sports cars, sitting on motorbikes and hugging attractive women.
But the Mexican's desire to impress proved his downfall when he borrowed the gun and snapped himself waving it about.
Neighbour Manfredo Paez, 57, said: 'I heard a gunshot and then I heard somebody screaming.'
The 21-year-old died on the way to hospital in Mexico City.

/Maetro.Co.Uk/