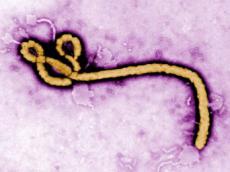 An athlete taking part in the Commonwealth Games has told of his terror at being quarantined after it was feared he had brought Ebola to Britain.
Road cyclist Moses Sesay, 32, from Sierra Leone was admitted to a Glasgow hospital last week after feeling unwell and doctors tested him for various conditions, including the deadly Ebola virus.
But Sesay has declared a public health emergency, was given the all-clear and released from hospital in time to compete in the men's individual time trial at the Games yesterday.
He told the Daily Mirror: 'I was admitted for four days and they tested me for Ebola.
'It came back negative but they did it again and this time sent it to London, where it was also negative.'
Glasgow 2014 released a statement confirming that there has been no outbreak of Ebola in the Athletes Village or anywhere else in the UK.
They said: "We can confirm an athlete was tested for a number of things when he fell ill last week, including Ebola. The tests were negative and the athlete competed in his event on Thursday.
A spokeswoman for Health Protection Scotland added it was an isolated incident and no other athletes were tested.
The ongoing epidemic of Ebloa in west Africa has caused 729 deaths so far.

/Metro.Co.Uk/