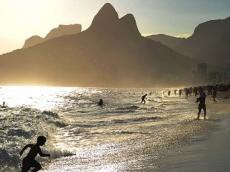 Stressed colleagues, traffic jams, pollution.
We're all familiar with the undesirable qualities of city life.
So thank the gods of urban planning for the occasional sandy edge.
There are some cities where worker drones can strip off the suit and tie, jump into shorts or a bikini and enjoy a day with their toes in the sand without having to leave the urban perimeter.
By talking with our well-traveled friends and colleagues, collating data from tourism authorities and using our own experiences, we've put together a list of what we think make up 9 of the best city beaches in the world.
No doubt you've got your own.
We'd love to hear about them in the comments.
1. Ipanema Beach (Rio De Janeiro)

2. Bondi Beach (Sydney)

3. Waikiki Beach (Honolulu)

4. Brighton Beach (UK)

5. Barceloneta Beach (Barcelona, Spain)

6. Jumeirah Beach (Dubai, UAE)

7. Miami Beach (Miami)

8. Kitsilano Beach (Vancouver, British Columbia)

9. Clifton Beaches (Cape Town, South Africa)


/CNN/