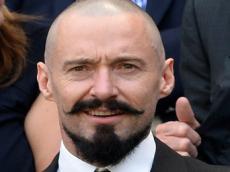 YOU CAN JUDGE a man by his shoes, but what about his facial hair?
According to Dr. Allan Peterkin, who's made a provocative career of studying facial fuzz (he's the author of three books on the topic, a brand ambassador for Dove Men+Care, and judge of the World Beard and Moustache Championships) you absolutely can.
Whether you prefer a full, feral beard or a smooth, clean-shaven look, commitment isn't in the cards. Unlike women, men "can flip flop," Peterkin says. "You can have a certain look now, but change it quickly. Guys have many choices when it comes to personal expression." No matter what you're growing on your face, though, Peterkin says daily cleansing and moisturizing is an absolute must.
Here, Peterkin breaks down five popular facial hairstyles and what they say about you:

STUBBLE

The lowdown
: This is the most popular form of facial hair expression right now, because "it looks good on almost all faces." Stubble allows you to have the best of both worlds, since you're neither bearded nor shaven. But contrary to popular belief, this requires a upkeep. Keep the upper margins tidy, and use an electric clipper to maintain a uniform length.
What it says:
You keep up with trends. You like to be in the know. You probably read Details.
MUSTACHE
The lowdown:
While historically lip whiskers were associated with "fops, foreigners, and fiends," that's no longer the case. The style originally had its roots as a cultural expression in other parts of the world like the Middle East, but American men eventually adopted them. They were especially big in the 1970s, as they became sexualized by pornography and gay culture. But even today, "it's still a bit of a marginal expression."
What it says:
You're a little provocative, and a little defiant. You don't care about what people are projecting (read: their preconceived notions) onto you.

FULL, GROOMED BEARD
The lowdown:
As long the beard is well-maintained, it looks good on a wide range of men. Perceived by the wearer as part of his identity, "it's almost like another limb," and conveys classic masculinity. It's such a desired statement in Saudi Arabia-where men are expected to have facial hair-that men will spend big money on beard transplants.
What it says:
You are quietly confident. You are not a peacock. Showing off is not for you.
WILD AND FERAL
The lowdown:
Considered the "final frontier" in the world of facial fuzz, it's having a big moment right now in gay culture, and with college kids and entertainment (think Swamp People). It's a bold expression that shows testosterone at work, and for many, the bigger the better.
What it says:
You're a free spirit. You don't like rules. You expect to be asked about your trophy beard.
CLEAN-SHAVEN
The lowdown:
Peterkin believes that facial hair trends cycle every 20 years, and that the smooth face will be trending again soon. "I think facial hair is losing its impact. So many people are doing it that it's a new norm."
What it says about you:
You don't have issues with conformity. You prefer not to stick out. You like a classic look.