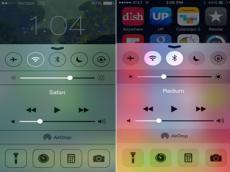 Apple on Monday released iOS 8 beta 4, just as our sources said would be the case. The new build is Apple's fourth developer preview release of its new iOS 8 software, which will be let loose to the general public sometime in the coming months, likely just before the next-generation iPhone 6 launches. In the meantime, developers can use Apple's iOS 8 betas to update their apps and build new ones that take advantage of all the new APIs Apple has provided. For the rest of us, iOS 8 gives us a look at all the great new things to come.Unfortunately, not all of those things are actually great.
Apple's new iOS 8 beta 4 update includes tons of changes, bug fixes and new features. You can read Apple's official iOS 8 beta 4 release notes. Many of the changes in beta 4 are refinements that add stability, bug fixes that address nagging issues and feature additions that bring iOS 8 a few steps closer to being ready for release.
Then, there's the new Control Center.
Now, this should be obvious but we'll note it anyway: this is not a public version of iOS 8 and many, many things will change before Apple's new mobile platform launches. The new Control Center design might not be final, or it might even go back to the old design. There is simply no way to tell until Apple releases the iOS 8 Gold Master build, which is a developer preview that is identical to the version of iOS 8 that will be released to the public.

/Yahoo/